"Look At This Neymar Looking A*s": American YouTuber With 12 Million Subs Calls Out Lewis Hamilton While Getting Roasted By F1 Fans
Published 10/29/2022, 9:25 PM EDT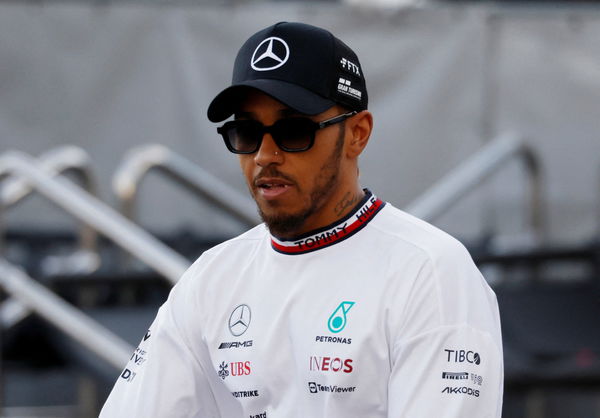 Popularly known for his online shouting, the young Youtuber IShowSpeed is arguably one hot-headed and loud guy. Often seen screaming and swearing during live streams, the teenage social media star recently tried his luck with Formula 1. However, his trial with the game didn't end up quite well with the fans.
ADVERTISEMENT
Article continues below this ad
Darren Watkins Jr, the real name behind the tag IShowSpeed, tried the F1 22 game developed by Electronic Arts. The teenage sensation started playing the game with F2 and soon after he shifted to F1. As Watkins Jr. moved to F1, firstly he encountered Lewis Hamilton in the driver line-up.
ADVERTISEMENT
Article continues below this ad
What came next would make anyone laugh their heart out. Looking at the Mercedes driver, IShowSpeed called him 'Neymar!' Yes, you read this right.
Fans hit out at the Youtuber for his F1 antics
Being a Cristiano Ronaldo fan, he decided to race in Autódromo Internacional do Algarve, the popular Portuguese F1 and MotoGP track, certified by FIA. As the game started, he shouted "Portugal Baby!"
"Let's go, Portugal, Cristiano Ronaldo!" he added. Coming across Lewis Hamilton during his driver selection, IShowSpeed said, "Oh look at this Neymar looking a**, come here Lewis. Fine, sexy, little.."
Given below are some of the comments that fans left under his video.
Most of the fans were criticizing the young Youtuber for his driving in the game. A fan wrote, "Driving Like an Grandma", while another wrote, "Ishowspeed can't drive lol."
"He shouldn't touch this game ever in his life." This fan was probably furious at Watkins Jr's driving skills.
ADVERTISEMENT
Article continues below this ad
Another wrote, "Man just doesnt brake."
Portimao, the popular F1 track is regarded as one of the hardest on the calendar, the teenage YouTuber with over 12 million subscribers took it as his racing circuit. In light of this, a fan wrote, "He had to chose the hardest track as well."
However, few fans appreciated him and loved his driving. If the comments were appreciation or sarcasm, that's for you to decide. For example, a fan commented, "what a legend" for the 17-year-old.
ADVERTISEMENT
Article continues below this ad
WATCH THIS STORY: Lewis Hamilton Adds New Ink to His Collection with Fine Line Hand Tattoos
A user even took a dig at Williams' driver, Nicholas Latifi by saying, "still better than Latifi." Astonishingly, a fan compared his driving with Lewis Hamilton! He wrote, "at least he drove accurately as Hamilton." He must not be a Hamilton fan.
Edited By: Ranvijay Singh