"Michael Masi Isn't Dutch": Gunner Lewis Hamilton's Fashionable Outing With Manchester United Star Triggers War Between Verstappen's Orange Army & LH44 Fans
Published 02/23/2023, 6:15 AM EST

Follow Us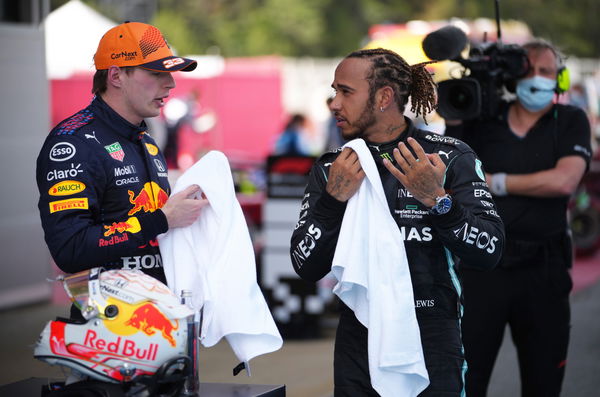 Be it paddocks or otherwise, wherever Lewis Hamilton goes, paparazzi follow. While one reason behind that is his immense success in F1, the other is his sense of style and fashion. Often lauded for his keen eye on trending outfits, even his own teammate George Russell once picked him among the best-dressed drivers. Therefore, it did not come as a surprise when the Briton was seen attending the London Fashion Week recently. And who better to accompany him than Manchester United's goal machine, Marcus Rashford? As the two legends came together, fans of both went bonkers, However, as happens with every Lewis Hamilton and Max Verstappen post, the admirers of both F1 champions locked horns on the internet.
It was only recently that we saw Hamilton attend the BAFTAs after-party hosted by British Vogue. The F1 heartthrob left everyone awestruck with his all-black look, outshining his good friend Serena Williams.
Lewis Hamilton and Max Verstappen's fans once again come to blows on the internet
ADVERTISEMENT
Article continues below this ad
The Hamilton-Verstappen rivalry remained subdued until the 2021 season. However, once the Dutchman got a car capable enough to challenge the might of Hamilton, the gloves came off. While some doubts were raised on the legitimacy of Max's first championship title, given that the FIA admitted to the "human error" on the then-race director Michael Masi's part in the season finale in 2021, there were no questions on his resounding 2022 championship win.
However, the 2021 Abu Dhabi GP controversy remains a major dividing factor to this day between the fan groups of both drivers. Have a look at some reactions to Lewis and Marcus meeting backstage at London Fashion Week.
This reaction came against the backdrop of Marcus' team being managed by Dutch coach Eric Ten Haag and Max, another Dutchman, beating Hamilton in two back-to-back seasons. The reaction got many hilarious responses but Hamilton fans were ready to defend their man.
One fan, had a witty response to Max winning the 2021 title implying that it was a consequence of Masi's "human error" and not the Dutchman's own brilliance.
Both are heros and greater than their sport.
Forget those dutchies

— Sabine (@ArtSaSch) February 23, 2023
Max fans so jealous of Lewis and insecure of the illegitimacy of Max's titles which he has been awarded through cheating & manipulation.

— Marc Sporfan (@marcsporfanilo) February 22, 2023
Lewis has won 5 more titles than Max. But how Rashford "owns" Ten Haag is a mystery.
As a lewis and united fan, this is actually class, but lewis is bossing max this season

— Luckzy (@Utd_Luckzy) February 23, 2023
I wouldn't say 2 titles (1 being controversial) in 7 seasons is bossing him to be quite honest 🤷🏼‍♂️

— Jack (@TJMarss_) February 22, 2023
Neither United nor Mercedes had a great 2022 season. One, presumably Max fan took a dig at their situation
Some fans just celebrated watching their two favorite sportsmen coming together and enjoying each other's company with a hearty laugh.
It's great to see Lewis Hamilton and Marcus Rashford, two influential figures in sports, supporting the fashion industry and attending London Fashion Week together.

— PatternPlayFannyPack (@mangaartstore) February 22, 2023
ADVERTISEMENT
Article continues below this ad
Watch This Story: Bromance moments between Max Verstappen & Lewis Hamilton
ADVERTISEMENT
Article continues below this ad
Say whatever you will. This banter between the two fan bases makes for a lot of entertainment. Let's just hope it is all in good spirits.