"Softened the Blow" – Daniel Ricciardo Reveals Horner's Grand Gesture After His 2014 Heartbreak
Published 08/25/2021, 9:19 AM EDT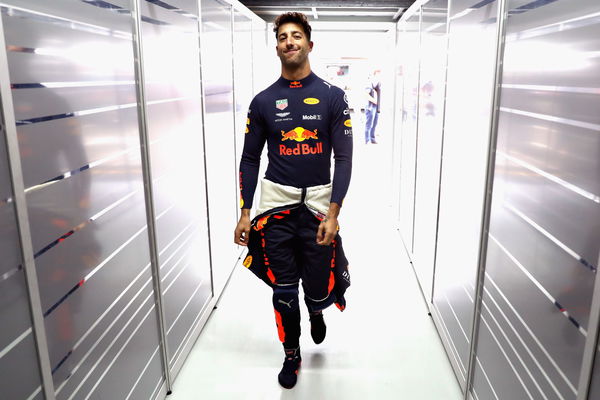 ---
---
Daniel Ricciardo wished to be the first Australian to stand on the podium at a home race. Ricciardo came close to that milestone in 2014, but, unfortunately, was disqualified from the race. Daniel stood second on the podium, finishing the race behind Nico Rosberg. Looking back at the situation Ricciardo considers it to be a landmark occasion in his career.
ADVERTISEMENT
Article continues below this ad
Ricciardo celebrated in front of the adoring home crowd at Albert Park; hours later, his celebrations were short-lived as he was robbed of his position. Daniel recalls his after-party, getting rained on as he got a call from Jonathan Wheatley; "telling me what I knew was coming, but he confirmed it."
ADVERTISEMENT
Article continues below this ad
Although, Red Bull gave Ricciardo the perfect pick-me-up. "What cheered me up is… I think the day after, Christian called me and said 'We'll still pay you your podium bonus.' That was nice."
Laughing about the bonus, the Honey Badger said, "That softened the blow a bit. That was like my first real paycheck in the sport, so I was quite happy." 
Daniel Ricciardo and the FIA
Danny Ric's RB10 had seemingly breached FIA's technical regulations under Article 5.1.4. This stated, 'fuel mass flow should not exceed 100kg/hr.' 
Five hours after the race, the FIA announced the disqualification. The stewards announced the car had "had consistently exceeded the maximum fuel flow of 100 kg per hour."
The Milton-Keynes team contested the ruling, stating that the FIA fuel flow meter had been inconsistent all weekend. "The Team and Renault are confident the fuel supplied to the engine is in full compliance with the regulations," a statement read.
This was a part of the new regulations introduced that year. The FIA introduced the flow restrictions to control engine power. Without the limit, teams could burn a lot of fuel at certain points of the lap while respecting the fuel limit. Therefore, running the fuel flow more than the restriction provides a power- benefit to the car; a clear contravention of the rules.
ADVERTISEMENT
Article continues below this ad
The season wasn't too bad for the Aussie, who finished third in the championship, two places ahead of his teammate, Sebastian Vettel. In fact, six races after the Australian GP, Ricciardo claimed his maiden victory in Canada.
ADVERTISEMENT
Article continues below this ad
Looking at the remainder of the 2021 season, will the Aussie's luck change as it did in 2014?
Watch this story: From Drunk Gala to Dry Responses: Kimi Raikkonen's Funniest Moments