Speculations Around Lewis Hamilton's Future Heat Up After Recent Criticism as Fans React to a Potential Switch to F1 Rival: "This Is Stupid"
Published 03/10/2023, 8:45 AM EST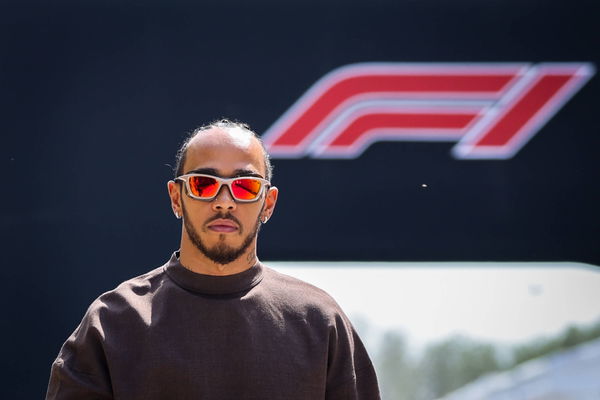 Lewis Hamilton stirred up a storm recently after revealing that his opinion wasn't taken seriously at Mercedes during the car's development. His statement came against the backdrop of an embarrassing P5 result from the season opener in Bahrain. The way Fernando Alonso overtook him to take the podium showed how little progress Mercedes had made since last year while Aston Martin excelled through and through. The whole debacle started a rumor that the Briton was looking for a move to Ferrari to win the elusive record 8th world championship. These rumors have now turned into a serious discussion as some renowned F1 experts and journalists recently weighed in on the options Hamilton has.
The speculations over Lewis' future reached such an extent that Mercedes had to issue a clarification quoting the man himself. However, fans took the Brackley-based team to task for not following his feedback during the car's development.
Will Lewis Hamilton switch to Ferrari if Mercedes don't improve?
ADVERTISEMENT
Article continues below this ad
Sky Sports F1 journalists recently had a discussion about Hamilton potentially looking for a move to either Aston Martin or Ferrari. While Karun Chandhok ruled out an Aston Martin move, Simon Lazenby believed Ferrari was a more viable option. Lazenby maintained that a move away from Mercedes was highly unlikely, however, in the event he ever wanted to, Ferrari was an easier choice.
Simon said on Sky Sports F1 podcast, "He's so desperate, so desperate for that eighth [title], that if Ferrari did manage to stay on the coattails and they were the nearest to Red Bull."
"He's not put his pen to paper yet on his contract. He's definitely waiting to see how this year's car felt."
Take a look at some reactions to the discussion on Twitter.
this is stupid, it won't happen. merc it's not that useless, they didn't forget how to build a car, they are just being stubborn with a design that clearly it's not working but they believe it could work https://t.co/Ti6v9k28fq

— cinn (@MV1GOLD) March 10, 2023
Hell no lmfao, he wouldn't last 3 seconds at Ferrari with the standards he's used to. Same goes for Max.

— Pons (@Pons3939) March 10, 2023
Some fans went a step further and predicted a move to Red Bull.
One fan felt if the move to Ferrari was to go through, it wouldn't make much sense.
Ferrari gains nothing from signing him. If the car is as it is, the endless break downs and deficit to red bull will have a huge amount of negativity.

If Ferrari has a front running car, he'll be fighting with Charles for the title…and Max will sneak in and take it.

No gain

— Exile (@PacificSimGP) March 10, 2023
Aston Martin and Ferrari won't downgrade 😭😭😭

— Michael Masi Never Broke Again  (@RepsMasi) March 10, 2023
Move to Ferrari. I'm sure they'd be happy to boot out Sainz and give LH a seat.

— ArmchairCritique (@PedroT70) March 10, 2023
Another fan felt the move did not make any sense because both Lewis and Charles Leclerc would end up fighting against each other.
this would be as stupid as putting Max and Charles together, two top drivers with one that finally is seen as such and has no titles and the other that is looking for his 8th. It's not like Merc can't get better, it's been literally 1 season of struggle after years of domination

— chichistyles -7 to 🇸🇦| 16 SF (@charles_lefast) March 10, 2023
Can see that happening. I mean he is Mercedes and Mercedes is Lewis. But not listening to your lead drivers feedback is surely not a good thing. Can see him going to Ferrari and Charles to Mercedes.

— Muhammad Zahooruddin Nizamani (@Zahooruddin007) March 10, 2023
ADVERTISEMENT
Article continues below this ad
Watch This Story: How a Kitchen Rendezvous Prevented Lewis Hamilton-Toto Wolff "Divorce"
ADVERTISEMENT
Article continues below this ad
Do you think the relationship between Hamilton and Mercedes has soured enough for him to not sign a new contract and join a different team in 2024? Will a move to Ferrari really be an upgrade for him?