'Still No Deal Done as Yet'- Buxton Reveals Where Mercedes and Lewis Hamilton Stand in the Contract Talks
Published 01/09/2021, 3:07 AM EST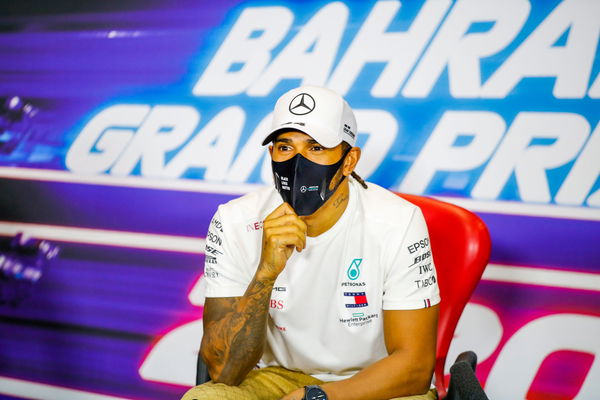 ---
---
Ever since the talks between Sir Lewis Hamilton and Mercedes began, rumors have been flying around. And it all led to the concerns of the recently knighted driver potentially losing his seat to his compatriot, George Russell.
ADVERTISEMENT
Article continues below this ad
However, amid such massive confusions, F1 reporter, Will Buxton, managed to clear the air over Lewis and his contract extension with Mercedes.
According to Buxton, the 7-time World Champion and Mercedes never ignited the talks until after the Abu Dhabi Grand Prix. Apparently, this led to a delay in bringing out a decision.
ADVERTISEMENT
Article continues below this ad
Buxton speaks about Lewis Hamilton extending his contract with Mercedes
The British reporter recently uploaded a video, where he spoke about the information he received from Mercedes themselves. "There is still no deal done as yet between him [Lewis] and the team [Mercedes]," he said.
"Now, a lot of people think there's a lot of conspiracy about this. And you know, 'Have they really done the deal?, Or is Lewis actually gonna leave the team?, Or is the team actually gonna pull out?'.
"But the team assured me that they genuinely didn't even start talking about this until after Abu Dhabi. And they've just taken the time to have a nice relaxing Christmas."
This major revelation by Mercedes demolished the claims that started to surface during the Turkish Grand Prix when people claimed that Lewis had started talks with his team the moment he lifted that 7th title.
It is in the offing: Buxton
Buxton felt that it is too early for Mercedes to announce their decision, considering when they actually started the talks with Lewis.
"To think about it, it's only been 3-and-a-half, 4 weeks since we were in Abu Dhabi. It's not that long of a time to actually get everything done nice and sorted," he said.
"So, it is in the offing. It is being discussed, it is being done. It is just not quite done yet."
ADVERTISEMENT
Article continues below this ad Overall, it looks like Lewis will remain a part of the Mercedes' line-up going into the 2021 season. And it is definitely not a shock. It would be criminal to leave a prime driver like Lewis out in the wild.
Mercedes will also be looking at the possibility that Lewis could wreck the World Championship record set by Michael Schumacher by the end of 2021.
ADVERTISEMENT
Article continues below this ad
Hence, with such potential creation of new records in mind, the defending champions would want to continue with Sir Lewis Hamilton. But could there be any twists at the very last moment? Well, let's wait and watch how things pan out in reality.