Stroll Reveals Big Investment in Aston Martin F1's 'Serious Ambition' Off Track
Published 01/20/2021, 3:08 AM EST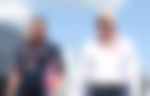 ---
---
Aston Martin Cognizant F1 team will return to F1 over the upcoming season after a massive six-decade absence. Amid such a sensational return, the world-famous British team are looking to target more fans by bolstering their social media presence.
ADVERTISEMENT
Article continues below this ad
Aston Martin's part-owner, Lawrence Stroll, is looking eager to attract fans toward the team and mentioned it as a "serious ambition" of the team.
Stroll's plan for social media
ADVERTISEMENT
Article continues below this ad
Speaking to Aston Martin, Stroll Sr opened up that Aston Martin is planning to invest a lot of money in social media, and many other fields.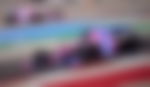 "I want them to know that we want to bring them right into the heart of this team and our journey. That might sound like a platitude," he said.
"But I can assure you it's a serious ambition that has been the focal point of a huge amount of work over the past 12 months. We are investing in everything we do; especially in areas such as social media to tell this wonderful story."
Stroll is looking incredibly confident about the plans that are in store for his team. Hence, such huge positivity amongst the team might just push them to triumph in their very early stage.
Aston Martin is for everyone who brought us here: Stroll
The Canadian billionaire opened up that he is planning to be innovative in order to provide the team with a massive fanbase and consequently giving the team a new modern identity.
"We want this to be a team for everyone – reaching out beyond the sport but remembering the dedicated fans that have brought us to where we are today," he said.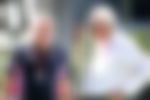 "To achieve that, we'll need to think outside of the box. And I'm hoping everybody will see us doing just that with a fresh and modern identity for the Aston Martin Cognizant Formula One Team."
ADVERTISEMENT
Article continues below this ad
Racing Point, before they bid adieu to F1 following their brief haul, left behind a bunch of fans for Aston Martin to take over. Hence, with such a strong fanbase, it will be interesting to see how they plan on moving forward.
Overall, apart from beating other F1 teams on the track, Aston Martin will be looking to defeat their rivals on social media as well.
ADVERTISEMENT
Article continues below this ad
But will they succeed in this attempt and build a fandom? Well, let's see if the massive investments pay off.