"Hello?"- Kimi Raikkonen Hilariously Calls Out His Absent Minded Engineer
Published 07/13/2020, 3:39 AM EDT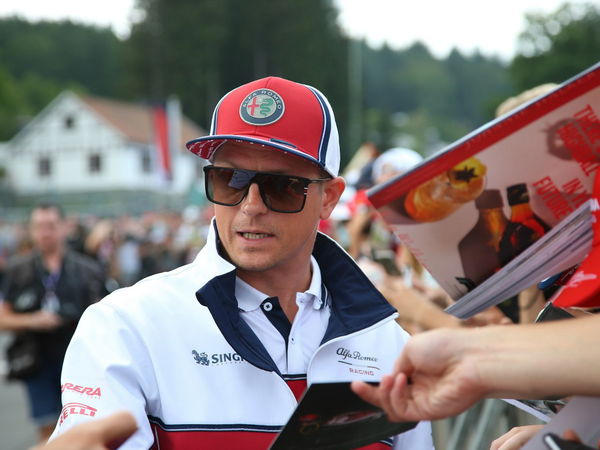 ---
---
Two races in, Alfa Romeo's Kimi Raikkonen is yet to make a dent on his tally of points for the 2020 season. The 'Iceman' was unlucky in the first race where he had to retire after his front right tire came off.
ADVERTISEMENT
Article continues below this ad
However, his performance at the Styrian Grand Prix, where he finished P11, was impressive despite him not scoring any points.
Nonetheless, no race is ever complete without a classic Kimi quote that heard on the team radio. This time the target of Kimi's sarcastic prowess was his race engineer.
ADVERTISEMENT
Article continues below this ad
Kimi Raikkonen doesn't want his team to be dozing off when he asks a question
When the 'Iceman' demands an answer he wants it ASAP. But in classic Kimi fashion, he won't ask you twice, the second time around it'll be a subtle sting.
When Raikkonen asked, "Is it last lap…?!" he got no answer for 2 seconds, so he subtly questioned if his racing crew had abandoned him by saying, "Hello?" One word is all he needs, to wake up his engineer who affirms that it indeed is the last lap.

Jokes apart, Kimi was pleased by the speed shown by the C39 on Sunday and regrets not having enough fuel to push for P10.
He said, "We actually had a pretty decent car today and our pace was definitely a step forward, so it's a bit frustrating not to be able to fight for the points.
"I lost a lot of time at the start, having to avoid the crash between the two Ferraris. I had to nearly stop, the car went into anti-stall and I couldn't get it out.
"In the end, I managed to recover to a good position but I had to save fuel in the last 20 laps so I couldn't push to catch Kvyat.
ADVERTISEMENT
Article continues below this ad
"On pure speed, I feel we could have got to the points but we fell a bit short. We get another chance next week so hopefully, we will have a better end result then."
His teammate Antonio Giovinazzi finished the race in P14 after starting in P19. However, he was the one to get the team some points in the season opener where he finished P9.
Kimi will definitely be looking to score his first points of the season in Hungary which will help Alfa Romeo distance themselves from the likes of Haas and Williams.
ADVERTISEMENT
Article continues below this ad