"That's Why I'm Confident for the Championship This Year" – Valtteri Bottas Reveals "Improvements" in Title Fight Against Lewis Hamilton
Published 07/13/2020, 3:31 AM EDT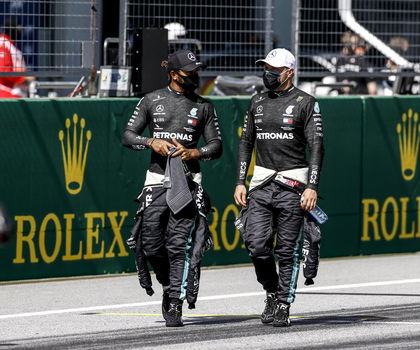 ---
---
Valtteri Bottas didn't have a bad race by any stretch of the imagination at the Styrian Grand Prix. The Finn finished at a commendable second, following a 'difficult' qualifying session by Mercedes' standards. However, it only took one dominant weekend from Lewis Hamilton to raise doubts over the Finn's ability to beat Hamilton to the crown.
ADVERTISEMENT
Article continues below this ad
Lewis Hamilton v Valtteri 3.0?
Bottas currently leads the World Championship by 6 points after just 2 F1 races this season. Despite landing the first blow and heading the Drivers' Standings, some still find it difficult to accept Valtteri as a real threat in the Championship fight,
ADVERTISEMENT
Article continues below this ad
Such is Hamilton's dominance and sheer form that it only took a single race to bounce back, after an ordinary weekend for the 6-time World Champion. Bottas finished second, in a race which he termed as "damage limitation".
But that didn't stop one particular journalist from questioning Bottas' self-belief early on in the season. In 2019, the Finn started the season strong but lacked the same consistency as Hamilton.
He didn't quite make Hamilton sweat for the Championship, but there are no guarantees of a repeat in 2020.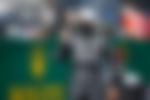 It can be daunting to fight Lewis Hamilton for the ultimate crown in motorsport, but Bottas isn't backing down.
Bottas: I know what I'm capable of
"I think in any sport, and especially in Formula 1 – it's quite a special sport, it's quite easy to doubt yourself – but for the moment I have no reason to," said Bottas in the post-race press conference.
"Obviously, over the years you find the right tools, how to find your confidence and the trust in yourself, and what you are doing. I have no reason to doubt any of my ability or skills. I know Lewis had a strong weekend."
Bottas also highlighted an improvement in his driving style, which he believes could a game-changer this season.
ADVERTISEMENT
Article continues below this ad
"Also, based on last weekend, I know what I'm capable of. So, I really feel many improvements in my driving since last year. So that's why I'm confident it's going to be a good battle for the Championship this year."
The Finn remained resolute and asserted that one bad race wasn't going to dampen his spirits.
"I'm not going to let one weekend, even multiple weekends, drag me down. I've learned that. Just going to focus on the job and improving myself as we go."
ADVERTISEMENT
Article continues below this ad