"The Right People are in the Right Place"- Lewis Hamilton Weighs in on Wolff's New Mercedes Contract
Published 12/20/2020, 4:39 AM EST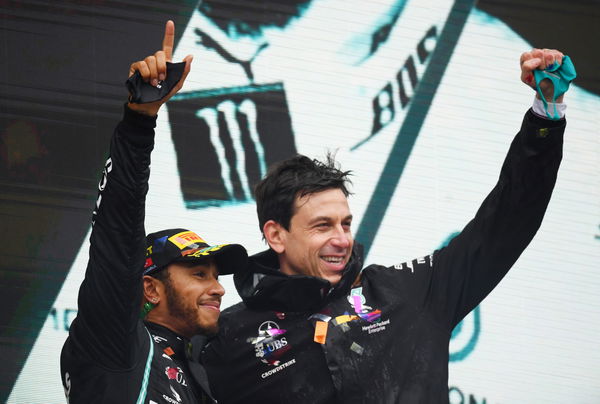 ---
---
Lewis Hamilton is over the moon right now. Having wrapped up his record-equalling 7th World Championship, he is on the cusp of possibly becoming the highest-paid driver of all-time. And to put the cherry on top, his boss, central to Mercedes' success, is extending his stay with the team.
ADVERTISEMENT
Article continues below this ad
ADVERTISEMENT
Article continues below this ad
Though, Toto Wolff is not only extending his stay but also strengthening his position within the team. He will not only serve as the CEO & Team Principal but also a 1/3rd owner of the powerhouse. And it delights Lewis that their successful partnership can continue.
" I'm really proud and grateful to see Toto's signing. He's such an important leading figure within this team, and the success that we have achieved would not have been possible without him," said Hamilton.
"He is such a great figurehead, and I think that the team is just better for it, to have that longevity, and it's great to see that commitment from Mercedes."
Lewis Hamilton thinks the 'future is bright' for Mercedes with INEOS
There has been a change of ownership structure at the Mercedes-AMG Petronas F1 Team. INEOS, who were mere sponsors in 2020, is taking a 33% stake in the team. The same as Toto and Daimler, making all 3 equal partners.
Mercedes-AMG Petronas F1 Team welcomes @INEOS as a one third equal shareholder alongside @Daimler and Toto Wolff 👇

— Mercedes-AMG PETRONAS F1 Team (@MercedesAMGF1) December 18, 2020
INEOS, owned by Britain's richest man Sir Jim Ratcliffe, is a shrewd investor in the sports industry. They are behind the cycling team, Team INEOS, which delivers Tour De France Champions year after year. And Lewis is delighted to welcome them on board.
"The added bonus of having INEOS who came in this year and have been a part of our success this year. It's great to see they're going to be a part of this team."
ADVERTISEMENT
Article continues below this ad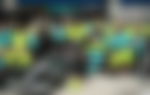 "It's going to take a big push for us to continue to raise the bar in this organization, because I think we've done such a great job over these past years.
"But I think the right people are in the right place, and it looks good. The future looks bright for this team I think."
ADVERTISEMENT
Article continues below this ad
It is a clear signal to their rivals, Red Bull and Ferrari, that they are not taking their foot off the gas pedal. It is refreshing to see a team not rest on its laurels and strive for excellence every year.