"Thinks He is the Team Boss" – Former F1 Boss Slams Lawrence Stroll Over Dramatic Aston Martin Downfall
Published 03/30/2022, 2:33 AM EDT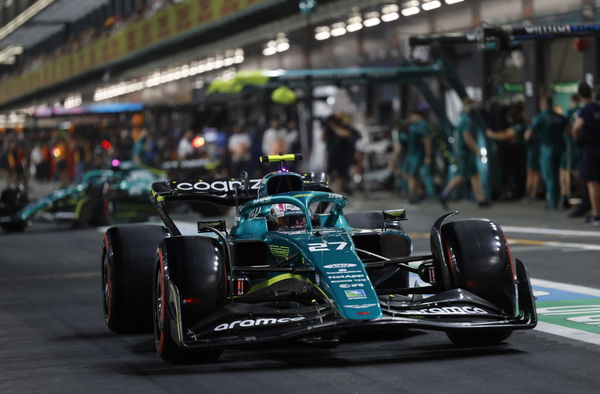 The season has been a disaster for Aston Martin so far. Their underperforming streak has gone to two races now as the British team has failed to pick up a point after two rounds of race. As the former boss expressed disappointment, Kolles stated that the new team combination "won't work."
ADVERTISEMENT
Article continues below this ad
Colin Kolles is a former Force India team principal and has been into the sport for some years. Force India transformed into Racing Point and, from there on, it is now known as Aston Martin. The team is owned by billionaire Lawrence Stroll and has Sebastian Vettel and Lance Stroll as their main drivers, with Nico Hulkenberg as their reserve.
ADVERTISEMENT
Article continues below this ad
Kolles conveyed this to AvD Motor & Sport Magazin, "It won't work anymore. You have a team owner who thinks he is the team boss, who knows everything better, and thinks he should put his son upfront with all his might. For me, that is the completely wrong approach."
"The fish always stinks from the head. I can see the racing team developing into nowhere. As long as Mr. Whitmarsh is in charge and Mr. Stroll doesn't see that he's staying at home and only setting budgets and letting people work who know their stuff and getting the right people to lead the team, it's never going to work," the 54-year-old former boss further stated.
How bad has the season been for Aston Martin?
Bad would be an understatement for Aston Martin's season development. The British team has underperformed in both Bahrain and Saudi Arabia. From the Qualifying to Race day, the Silverstone-based team couldn't do mass to collect points.
ADVERTISEMENT
Article continues below this ad
Even the teams like Haas and Alfa Romeo who were last in 2021 have points on their board. The situation makes Aston Martin languish at the very bottom with Williams. In Bahrain, Lance finished in P12 while Nico in P17. The same thing repeated in Jeddah, where the two green cars crossed the finish line in P12 and P13.
ADVERTISEMENT
Article continues below this ad
WATCH THIS STORY: Safety Car Costs Lewis Hamilton Dearly As Max Verstappen Rejoices
It is believed that the cause of such performance is because of the Mercedes power unit. The Mercedes-powered cars haven't been doing well in the new season. As of 2022, Mercedes, McLaren, Williams, and Aston Martin have all underperformed. As things stand, the British team might be in big trouble if things don't go in their way.