"This Guy's a F**King Idiot"- Latifi Fumes After Mazepin Ruins His Portimao Qualifying Lap
Published 05/02/2021, 3:41 AM EDT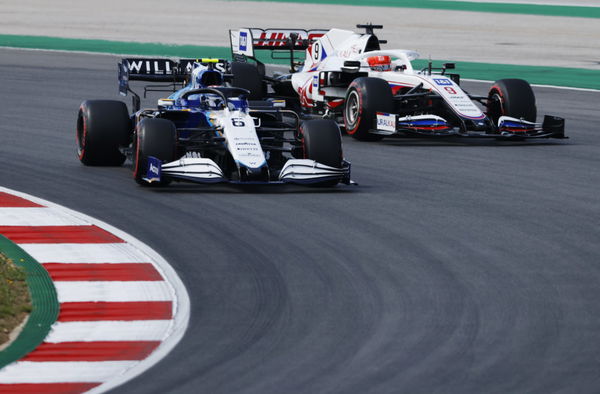 ---
---
It looks like no official running day in F1 this season will be complete without Nikita Mazepin making the news. His spins are attracting as much ridicule as his tendency to annoy his fellow drivers with his unsporting actions. In Portimao, during Qualifying yesterday, he faced the wrath of Nicholas Latifi who accused him of acting out of revenge.
ADVERTISEMENT
Article continues below this ad
As Latifi was warming up for his qualifying lap, he received a late warning from his team that Mazepin was fast approaching behind during his official timed lap. But he couldn't get out of his way in time and expected the Haas driver to retaliate.
"He is probably gonna block me," Latifi predicted.
ADVERTISEMENT
Article continues below this ad
And his prophecy came true when Mazepin seemingly held him up at Turn 1 of his qualifying simulation. Aside from chiding his own race engineer for the delay in relaying the information, Latifi brought out the cuss words against his rival – "Yeah, I got blocked, of course. What a dumb idiot. Like I didn't do it on purpose. (You) got to give me better info. This guy's a f**king idiot!"
In the end, both the drivers failed to make it out of Q1. While Williams' Latifi placed at 18th spot, Mazepin will begin Sunday's race from the rock bottom of the grid at 20th.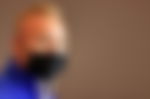 Mazepin rejects Latifi's blocking claim
Later on, Nikita Mazepin denied deliberately blocking the Canadian. In Imola, Alfa Romeo's Antonio Giovinazzi accused him of breaking the gentleman's code. Back then, he defended his actions, and he did the same here in Portimao.
ADVERTISEMENT
Article continues below this ad
"I'd never do anything on purpose to mess somebody's lap," Mazepin protested his innocence.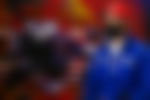 The Russian said that he will have to review the footage of the incident before coming to any conclusions, "I have to really watch the onboard, to be honest, because I've been told that he's three seconds away, and from what I've seen, he was not very close. So I mean whatever you call 'blocking' is a bit of a tough part."
ADVERTISEMENT
Article continues below this ad
Mazepin's reputation is in tatters so early in his fledgling F1 career. He is aware that he has to do more to try to win over the fans and his peers.