"This Is Why IndyCar Is Superior": Callum Ilott Joins Fans to Revolt Against F1 as Ridiculous Prices Grab Attention
Published 03/10/2023, 10:00 AM EST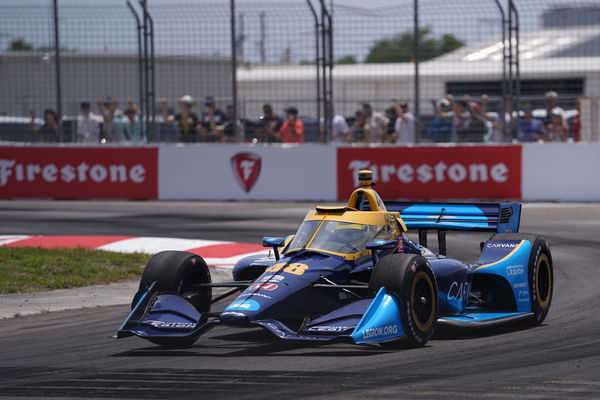 F1 and IndyCar have made quite a name for themselves in the single-seater division of racing. Despite F1 being a better-funded championship and the senior-most division, Indy has gained massive popularity over the years as well. While F1 holds an edge over the feeder series in terms of cars' capabilities and drivers' quality, it remains a sport that is not readily accessible to the masses. That is where Indy comes in with its great value-for-money offering. As the discussion raged among the fans, even star driver Callum Ilott could not help but stand in the American series' favor.
ADVERTISEMENT
Article continues below this ad
While IndyCar is a great cultivating ground for budding racing talent, it has always attracted seasoned campaigners as well. Reputable names like Fernando Alonso and Mario Andretti have tried their hand out at the series and come out with nothing but admiration. Sometimes it even begs the question of whether it is the better competition ahead of F1.
Callum Ilott joins the Indycar vs F1 debate
ADVERTISEMENT
Article continues below this ad
To fans of F1, it is no secret that the tickets to a single fixture are nothing short of exorbitant. At almost every race, the ticket prices are so mind-numbingly high, that even the most die-hard fans aren't able to attend. In the end, the sport ends up becoming an experience that only the elite can have.
IndyCar, on the other hand, offers great ticket prices with privileged access to the paddocks and other facilities. One fan of both motorsports highlighted the fan engagement disparity between the two which caught Callum's attention as well.
Have a look at some reactions to the post.
THIS IS WHY INDY IS SUPERIOR.

— kay | ilotty p5!!!!!! (@vettel5norris) March 8, 2023
Makes sense when you realise that almost all F1 fans will never be able to attend an F1 race in their life. This sport has to pivot fast away from catering to just a select few to a broader audience.

That offering could be digital in nature but it can't just be more content. https://t.co/cugrWZ9u6s

— Toni Cowan-Brown (@ToniCowanBrown) March 9, 2023
One fan accused F1 of just running after money.
Another user felt that F1's elitist ticket pricing strategy could kill the sport's popularity in the future.
This will be a killer for the sport's growth. You can't insist on attracting younger viewers, then block them through multiple pay walls with extortionate prices.#F1 https://t.co/9A4841J3Wo

— Syrine Ferchichi (@fsyrine98) March 9, 2023
Some fans told how one can buy tickets to multiple events for a price lower than the F1 tickets for one weekend's worth of experience.
Not to mentions ELMS or WEC (except Le Mans obviously) you could nearly attend half the season having paddock passes as well & not spend 1k
Worth giving them a chance cause then you see more racing like Ligier & Le Mans Cup (in wec you have f1 academy in monza too this season) https://t.co/E8N08t8NlM

— Marta (@f1_marta) March 9, 2023
for me last year it was either go to miami or go to the indy 500, barber, iowa weekend, nashville, nascar at watkins glen, imsa at lime rock, knoxville nationals, and one other world of outlaws race. would love to go to a f1 race but i cant justify missing that many other things

— Mike McCoy (@NYstacker11) March 9, 2023
One fan pointed out why this was the reason why watching IndyCar races in person was a guilt-free experience.
ADVERTISEMENT
Article continues below this ad
Watch This Story: How Fast Can F1 Cars Go? Comparisons With MotoGP, IndyCar, NASCAR and Formula E
I got grandstand + infield parking + paddock passes for 3 people for around $500 in 2021 at the Portland race…

— CeliacBandit (@CeliacBandit) March 9, 2023
ADVERTISEMENT
Article continues below this ad
Do you think F1's ticket pricing is justified? Surely they are very different experiences, but is it really worth missing out on so many other fixtures?