THROWBACK: Daniel Ricciardo Stunned by Lewis Hamilton's Hidden Musical Talent
Published 08/13/2021, 10:26 AM EDT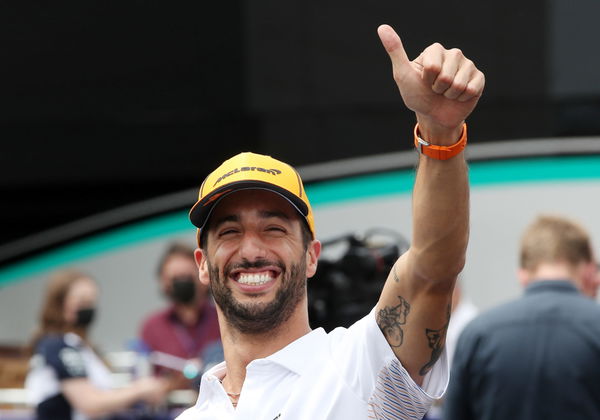 ---
---
Many drivers on the grid don't limit themselves to the world of motorsport. Lando Norris has his video games, Carlos Sainz has his golf, and Daniel Ricciardo, his wine. Championship leader Lewis Hamilton kept his love for music under wraps with the alias of XNDA.
ADVERTISEMENT
Article continues below this ad
When Lewis revealed himself as the unknown rapper, his collaboration with Christina Aguilera blew up. Reflecting the exact reactions of fans across the globe, the driver's music left Daniel Ricciardo mouth agape. Looking back at the moment Ricciardo heard Hamilton, the Aussie was speechless, with nothing to say but "well done!"
ADVERTISEMENT
Article continues below this ad
Aguilera had released the song with her album in 2018, and everyone wondered who the mysterious rapper XNDA with the song Pipe was. Two years later, Hamilton confirmed the voice was his. The Brit also revealed his immense passion for the craft, revealing that he had been writing and recording music for the last 10 years.
Hamilton explained his secret identity, saying, "The goal was to have the music come out under a different name so that you could hear the music first and later know it was me but it didn't work out the way I'd planned."
Music man Daniel Ricciardo?
Just before having his breath taken away, Daniel Ricciardo mentioned, "I think when I retire, just for pure fun, and because I love to sing even though I can't, I want to take singing lessons." 
Now, the F1 fans haven't forgotten the infamous Red Bull Boy Band. The dynamic boy band created by the fans initially featured Daniil Kvyat and Sainz with Max Verstappen and Ricciardo. This was mostly because of the funny way the drivers posed for their photoshoots.
However, after a video of the new band jamming to the Spice Girls surfaced, changes were made. Fans went wild over the video and upgraded the Red Bull band to include Pierre Gasly and Brendon Hartley. The off-tune singing surely promises the drivers a successful retirement life, only if they take those lessons with Danny Ric.
ADVERTISEMENT
Article continues below this ad
While the Red Bull Boy Band has split ways, as most boy bands do, their solo careers have been brilliant. Verstappen is now locking horns with Lewis Hamilton for the championship title. Gasly is leading the sister Red Bull team on the grid, while Ricciardo is finding his way in McLaren. Brendon Hartley has made his way in Formula E.
ADVERTISEMENT
Article continues below this ad
While fans wait for Hamilton to drop his mixtape, maybe we can get another hit from the Red Bull Boys as well.
Watch this story: Shortest F1 Drivers Ever Featuring Yuki Tsunoda & Lando Norris