Toto Wolff Downplays Mercedes F1's DAS Advantage
Published 03/03/2020, 4:13 AM EST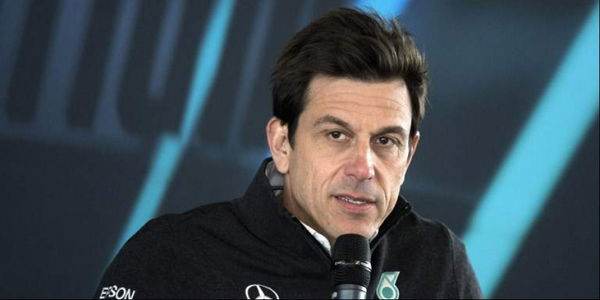 ---
---
Mercedes have remained tight-lipped on their latest innovation, but Toto Wolff has set a benchmark for DAS. The Austrian claimed that the steering column innovation has a limit in terms of its gains and revealed a ceiling. Lewis Hamilton and Valtteri Bottas have hailed the Mercedes innovation, but haven't disclosed a lot regarding its application.
ADVERTISEMENT
Article continues below this ad
Wolff reveals Mercedes DAS' limit
For the uninformed, DAS stands for Dual Axis Steering and is a steering column innovation that Mercedes debuted during testing. The mechanism involves a driver-initiated operation of pulling-back and pushing-in the steering wheel to activate or negate its effect.
ADVERTISEMENT
Article continues below this ad
When activated, DAS results in the Mercedes car employing a 'toe-in' operation on its front wheels. F1 cars, unlike regular motor vehicles, have their front wheels pointing slightly outwards (toe-out). This results in better cornering and car stability on the twisty, winding bits of a race track.

However, the toe-out approach loses its advantage on long straights. That results in poorly balanced temperature issues on the rear tyres. DAS benefits Mercedes by neutralizing the overheating and provides a marginal increase in top speed.
The FIA has banned the use of DAS from 2021, which gives Mercedes one season to really test its true benefits.
Valtteri Bottas recently revealed that the team may use the steering mechanism in the first race in Australia.
"We're happy to have it on the car, and now it all goes pretty smoothly and starts to feel like everything goes pretty automatically without too much thinking about it, and we're using it what we think is the best," said Bottas, speaking to Autosport.
Lewis Hamilton has downplayed the innovation and didn't seem particularly enthusiastic about DAS' gains.
"Sometimes I used it and sometimes I didn't. I don't know how much we will use it in the season,"
This could be another one of Mercedes' classic F1 tricks. The team have sandbagged their pace advantage in the past and could be doing the same with DAS.
Team principal Toto Wolff denied claims of DAS being an absolute game changer and revealed its limitations.
ADVERTISEMENT
Article continues below this ad
Speaking to Bild am Sonntag, Wolff said:
"We don't want to reveal too much about it yet, but whoever thinks it will give us two seconds is wrong,
"It is one of many innovations on the new car. Ultimately, it is the overall package that is crucial."
ADVERTISEMENT
Article continues below this ad
This suggests that Mercedes definitely have more tricks up their sleeve. Could DAS merely be smoke and mirrors?