Toto Wolff Urges F1 to Take Cues From Alonso's Thrilling Renault V10 Reunion
Published 12/18/2020, 2:42 AM EST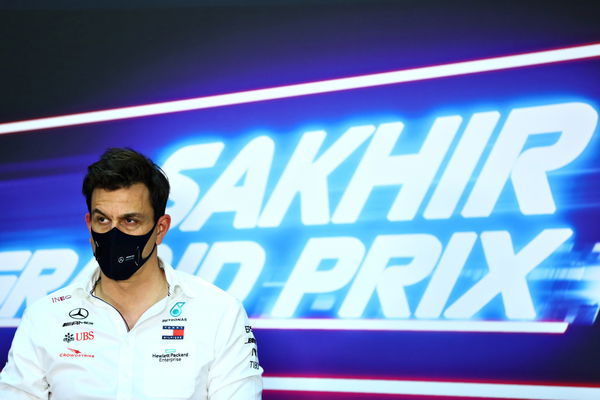 ---
---
Renault are rebranding themselves as Alpine going into the next season. As a celebration of Renault's time in Formula 1, they reunited Fernando Alonso with the championship-winning machine R25.
ADVERTISEMENT
Article continues below this ad
Alonso drove that car in Abu Dhabi ahead of the race and captivated every single person on the grid. The car sounded sensational as Alonso made the best of that lap. The show also took everyone back in time to the past era.
After the lap, Alonso explained that the car is still incredibly fast. Moreover, this is the beauty that Formula 1 is missing at the moment. Toto Wolff also worked out the factors that made the car look stunning on the track.
ADVERTISEMENT
Article continues below this ad
He said, "The car with the V10 engine, on the one side is a relic of the past when reducing CO2 emissions wasn't on the cards, and electric mobility didn't exist."
"When you look at the TV pictures, it looked like they were going much faster [than the current cars]. So there is something to learn. I believe there is always something to learn.
Toto Wolff dissects the beauty of the drive
Alonso driving the car was really nostalgic. The blue and yellow color of the car and the racing suit. The sound of the engine. It took everyone back to the time we fell in love with Formula 1.
ADVERTISEMENT
Article continues below this ad
Wolff said, "I don't think anybody regrets from Formula 1 to have had the car out there, because we need to analyse now that we saw it live what is so attractive?"
"Is it the audio and visual experience that makes it attractive? But then I saw the pictures without the sound, and it still looked great, so why is that? We need to analyse that," he added.
It is true that the Formula 1 community misses the sound. However, the cars today are faster and more efficient. They are also more safe and reliable. Meanwhile, Formula 1 is doing a lot to make the sport more eco-friendly.
ADVERTISEMENT
Article continues below this ad