Toto Wolff vs Christian Horner Net Worth Comparison: Which F1 Boss is Richer?
Published 11/14/2021, 9:48 AM EST
By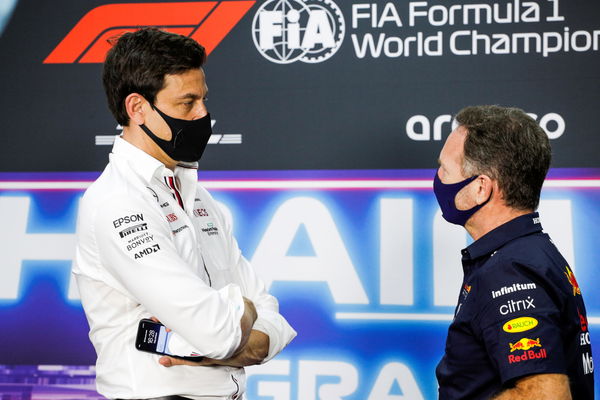 In the current Formula One season, the battle isn't just between Lewis Hamilton and Max Verstappen on the field. It's also between their two Team Principals, Toto Wolff and Christian Horner on the pit wall.
ADVERTISEMENT
Article continues below this ad
Over the years, both Wolff and Horner have played a huge part in their respective team's success and moments of glory. And in 2021, both of them are facing the biggest test of their careers, neck and neck against each other in a championship battle that is going down to the wire.
ADVERTISEMENT
Article continues below this ad
Red Bull have won four consecutive double titles under Christian Horner but Mercedes have won seven consecutive double titles under Toto Wolff. But does the Briton hold an advantage over the Austrian off the paddock?
Let's look at how Toto Wolff compares with Christian Horner in terms of wealth.
Christian Horner
At 32, Christian Horner became the youngest ever Team Principal in Formula One when he was appointed in that position by Red Bull. Horner has remained with the Austrian team since.
Hw was 25 years old when he quit racing and joined Arden in FIA 3000 before Red Bull appointed him in 2005, beginning his F1 career.
Little is known about his investments and endorsements.
Horner holds the rank of ambassador in the Wings For Life Foundation.
He is paid a salary of $10 million and has a reported net worth of $50 million.
Toto Wolff
Unlike Horner, Toto Wolff is an entrepreneur along with being a Formula One Team Principal. The Austrian has a 30% share in the Mercedes AMG Formula One Team.
Wolff has a long history as an entrepreneur. He founded two companies, Marchfifteen and Marchsixteen, in 1998 and 2004, respectively. He also bought a 49% share in German HWA AG in 2006. That company develops F3 engines and runs the Deutsche Tourenwagen Masters race program for Mercedes Benz.
A lifelong F1 fan, he first made his way into Formula One after buying shares in the William Racing team in 2009.
Wolff bought 0.95% shares worth roughly $35 million in Aston Martin in 2020.
Toto Wolff earns an estimated salary of $8 million and a reported net worth of $450 million.
ADVERTISEMENT
Article continues below this ad
Verdict
Clearly, Toto Wolff has a bigger fortune than Christian Horner and by some margin. The only advantage Horner has over Wolff is in their salaries, but then again Wolff has a 30% share in the company which is paying him that salary.
ADVERTISEMENT
Article continues below this ad
In fact, if Mercedes manage to defeat Red Bull this season, Wolff can expect an even more increase in his net worth, not to mention the sweet dividends.