Try Not to Smile: Watch Kimi Raikkonen Answer Candid Questions in a Unique Challenge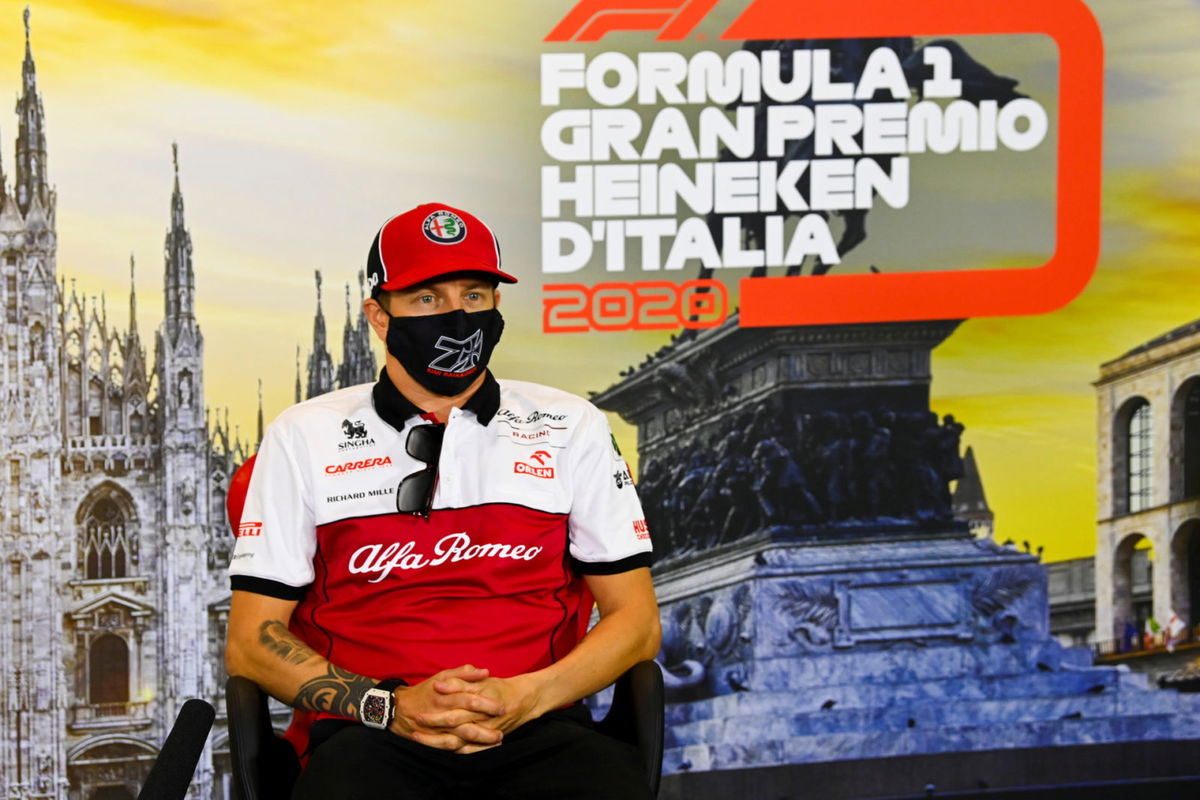 A no-race weekend after the Mugello Grand Prix was a necessary break for the teams. During that week, the teams worked tirelessly on their cars. The racers, on the other hand, got time to relax their nerves by indulging in some other recreational activity. Alfa Romeo recently released a video of Kimi Raikkonen and Antonio Giovinazzi engaged in a blind Q&A round on Twitter.
Though the teams proceed into a tense weekend at Sochi, the fun never leaves the grid. Teams like Mercedes and Alfa Romeo often indulge in the act of posting interactive videos to keep their fans engaged and updated. The hilarious video has moments that will make you crack up hard.
READ MORE- "We Are Suffering"- Alfa Romeo Boss Doubles Down on Championship Woes
Kimi Raikkonen and Antonio Giovinazzi in a hilarious 'You or Me'
The video begins with the racers being asked to close their eyes for the Q&A. Giovinazzi, initially alarmed by the proposition, is convinced by Raikkonen to follow.
Looks like we've got two great dancers… 🕺🏼💃🏼 pic.twitter.com/THHCoCL0xS

— Alfa Romeo Racing ORLEN (@alfaromeoracing) September 23, 2020
Round 1 of You or Me begins. The first question that pops up is, "Who is funnier?" There is no space for conflict on this question. Kimi Raikkonen is the winner. Adding to the fun, Kimi teases Antonio by saying, "You can point this way, Antonio. Don't be so selfish." Further on, when Antonio asks who did Kimi point at, the champion savagely replied, "What do you think?"
The game moves on to question two. "Who is a better dancer?" Both the racers came out generously on this one, pointing at each other. Dance is an art where none can praise themselves. No conflict over this.
Round 3. The question flashing on the screen is, "Who talks less?" Another unanimous decision on this. We have all known Kimi Raikkonen for a long time now, and he is undoubtedly one of the coolest racers on the grid.
The fourth question to the racers was, "Who talks more on the radio?" Raikkonen's finger darts towards Giovinazzi. He further remarks, "I hear the complaints all the time." In his defense, Giovinazzi lets loose a smirk.
Finally, coming down to essentials, the last question in the clip was, "Who takes longer to do their hair?" Both the drivers pointed towards the other and they burst out laughing.
Alfa Romeo is having an impressive season so far. At the Mugello Circuit, Kimi Raikkonen finished at P9 after his teammate had to retire due to a crash. Kimi Raikkonen has always been an impressive driver, and with his level of experience, he can still grab a few podiums.
READ MORE- WATCH: Kimi Raikkonen Has An Epic Response For What's in His Bucket List