Alex Albon Not Disappointed With His Recent Performances
Published 11/14/2020, 12:46 AM EST
---
---
24-year-old Alex Albon considers his current form of racing not so "terrible". He believes he can still overcome the situation. Following the results of qualifying and Sunday races, his low position remained stagnant. The racer is struggling hard to keep up a good rank, and his recent form is not helping matters.
ADVERTISEMENT
Article continues below this ad
He clinched his first podium at the Circuit of Mugello. Subsequently, the racer has not only witnessed no other chequered flags but also barely scored a point in the last four races. However, Red Bull continues to give the Thai racer another chance to prove himself.
The young racer has tremendous pressure on his shoulders. Racing for the dominant Red Bull team, Albon grips the steering wheel for the second-fastest car in the F1 realm. However, he is lagging in his performance. Despite that, the Red Bull team has granted him time till the Abu Dhabi Grand Prix.
ADVERTISEMENT
Article continues below this ad
However, the Anglo-Thai driver thinks he hasn't been too terrible on track. He believes that the Qualifying and Sunday races that took place this season have underestimated his form. Further, the unnecessary cockpit drama in the races has tarnished his image too.
Alex Albon
expressed
at the press conference, "
Obviously Mugello was the last race that I had a good result on really but it hasn't been terrible.
"I think qualifying hasn't really changed too much… it's been more or less the same, if not, sometimes a bit better. It's more or a less losing a little bit of time at the start of the races, and once you're in the trains, it's really hard to overtake."
The Mugello track was not perfect and convenient for most drivers. Albon and his teammate Max Verstappen faltered in the circuit too. However, after most drivers had retired from the race, Albon dominated the podium stand. Unfortunately, he failed to persist in a dominating form in the other tracks.
Albon affirmed, "I think Mugello was a nice one because you can overtake but it has been quite tricky once the leading car in the group let's say dictates the rest. I would say that's probably more of a reason for it.
ADVERTISEMENT
Article continues below this ad
"Of course, here Turkey it's a good track for overtaking and you can do different lines. Firstly, I want to qualify higher and have a smoother race."
The F1 spectators and the F1 team Red Bull are considering polling for two drivers currently. Nico Hulkenberg, who has performed spectacularly this season as Checo's replacement, is the one of those racers. The other racer is Sergio Perez, who has been replaced by Sebastian Vettel for the next season.
Perez has resigned himself to watching the next season's matches from home. However, Red Bull has not yet finalized its decision on the matter.
ADVERTISEMENT
Article continues below this ad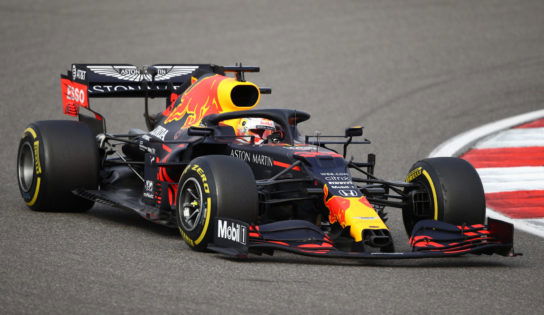 More from EssentiallySports on F1