Daniel Ricciardo Explains How Alex Albon Pipped Him to Mugello F1 Podium
Published 09/14/2020, 7:30 PM EDT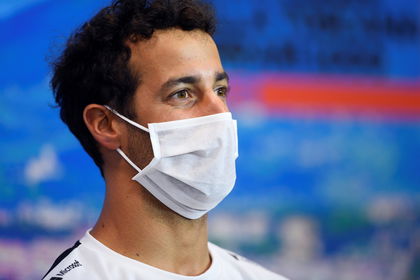 ---
---
Daniel Ricciardo will be gutted to miss the podium at the Tuscan Grand Prix. The Grand Prix was marked with a couple of safety car deployments and the retirement of 8 racers. Ricciardo was doing pretty good up the list. However, Alexander Albon dismantled him and walked away with the podium finish with the two Mercedes.
ADVERTISEMENT
Article continues below this ad
Daniel Ricciardo and Renault Team Principal Cyril Abitebaul have a bet between them. Ricciardo who's driving for Renault for the final session is hungry for a podium finish. If he manages to get hold of one, he and Cyril will be getting matching tattoos. The duo came really close to keeping their promise. But the final results saw them missing out by a whisker.
Ricciardo was asked whether he was thinking about the design while racing or not. The Australian however, pointed out where his main focus lies.
ADVERTISEMENT
Article continues below this ad
"To be honest I wasn't thinking about tattoo designs, but I was thinking about the trophy and some champagne," he said. "It was hot out there, so I was certainly thirsty for that.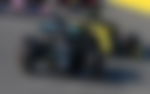 Daniel Ricciardo lost to Red Bull's pace
Daniel Ricciardo showed some good glimpses of racing. He even managed to climb up to the 2nd spot. though he was soon toppled by Valtteri Bottas. A couple of laps later, Albon overtook him and he finished the race in P4. The Renault was no match for the Red Bull's pace and even Ricciardo agrees to it.
"It's at the end the last part of the race, that final restart, Albon showed more pace than he had all race and we didn't have an answer for that. He was really quick on the softs [tires], on lower fuel, and it looked like that suited them more than us. I felt really good in the car but third sector was where he had us and that's where you latch on to the DRS. We didn't have an answer really."
ADVERTISEMENT
Article continues below this ad
Tuscan Grand Prix was a hell hole
The Tuscan Grand Prix was a living hell for the racers. Pierre Gasly and Max Verstappen crashed out early in the race. The safety car had a busy day as a major crash caused a handful of racers to red flag the race. With debris all over the crash, the Safety car was deployed. However, another crash caused the safety car to come in for the second stint.
For Ricciardo, it was a great race, he himself looked confident and was enjoying the race. He would've loved to clinch a podium finish, however, Albon was the better off the two. Hopefully, his dream will turn to reality pretty soon.
ADVERTISEMENT
Article continues below this ad