"It Was a Bit Much" – Ocon Opens Up on His Team Radio Spat With Renault
Published 09/11/2020, 8:57 AM EDT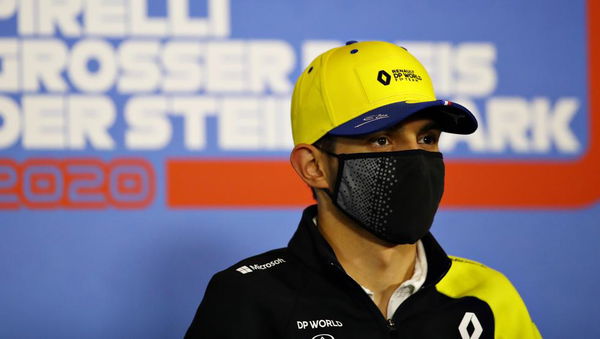 The Italian Grand Prix at Monza turned out to be rather surprising. Neither the Silver Arrows nor the Red Bulls could make it to the podium. Instead, Pierre Gasly pulled off a stunner by giving Alpha Tauri their second F1 win in their history. Others on the podium were Lance Stroll from Racing Point and Carlos Sainz Jr from McLaren. However, Renault racer, Ocon complains to have missed out on the race.
ADVERTISEMENT
Article continues below this ad
What Infuriated Esteban Ocon at Monza
Yeah, copy, I disagree. I think we missed out completely on this race. There was a massive opportunity," Renault racer, Esteban Ocon had clearly expressed his frustration over the team radio. The Frenchman was particularly disappointed for not being provided with the desired tyres. However, his outburst over the radio was snubbed off by the team principal Abiteboul. He simply stated, "Esteban, this is not the place."
ADVERTISEMENT
Article continues below this ad
Though Renault was happy to have pulled off a P6 and P8, Ocon was left dissatisfied. After the race, he stated that they had missed out on a huge opportunity to get on the podium. He elaborated by stating," It is a shame obviously that we pitted in those circumstances and those things happened, but our luck will turn around."
Renault looks Forward to Tuscan GP
Nonetheless, Ocon's frustration seems to have died down after a few days. He recently clarified at the Pre-race press conference that he had understood his mistake. He accepted the fact that his outburst had been misplaced and untimely.
"I think what is important that we discuss internally on everything that happens.
"Not having another view in the end, of course, I expressed a bit of disappointment which in the end I think was a bit much because when you look at it overall on how we perform, how we did come back from outside of the points on our side to earning the points after the pit stops we've done and everything.
ADVERTISEMENT
Article continues below this ad
"I think it has been a strong race. As I said, of course, there was some possibilities if we took a gamble but overall on a race like that, it is difficult to think that we miss something really on that opportunity.
"Reviewing it, I think it has been a strong weekend and from where we were, I think it was a good one."
ADVERTISEMENT
Article continues below this ad
With Alonso set to return with Renault after this season, the radio battle would be something that we all would look forward to. With Abetiboul cautious of not letting out mistakes over a public platform like the team radio, it would be interesting to see him hold back Alonso on that.