Scuderia Ferrari Unveil Special Livery and Race Suits for their 1000th F1 Race in Mugello
Published 09/10/2020, 12:43 AM EDT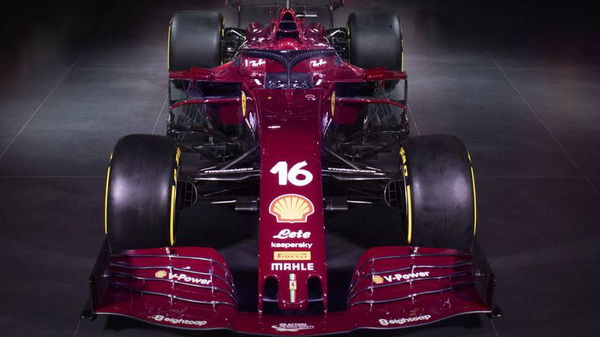 Ferrari are gearing up for its 1000th Grand Prix in style. The team haven't had much reason to celebrate lately, but this certainly brings back the excitement. The city of Florence decks up as the race is scheduled to take place at the Mugello Circuit.
ADVERTISEMENT
Article continues below this ad
Despite the engine woes, Ferrari decided to design a new livery for their car. The SF1000s will be sporting a Burgundy with a matte finish.
Ferrari look back to their initial days with the first 125 F1s. These were the very first cars to be racing for the Prancing Stallion back in 1950. The color is reminiscent of their rich and storied history.
ADVERTISEMENT
Article continues below this ad
Ferrari Vice Chairman extends his gratitude to the FIA
Piero Ferrari, Vice Chairman at Ferrari, seems to be very enthusiastic and excited about the race at Mugello Circuit. He states that in addition to the car's redesigned livery, the racers will have matching apparels as well.
The Ferrari boss expressed his joy and said, "Scuderia Ferrari's 1000th Grand Prix is a very important milestone, therefore it had to be marked in a special way.
"That's why we decided to run a unique livery on the cars for this event, with the SF1000s taking to the track at the Mugello Circuit in the Burgundy colour first seen on the 125 S, the first racing car to carry the Ferrari name.
Et voici les combinaisons des représentants du Cheval Cabré ce week-end. À noter que Mick Schumacher roulera à bord de la F2004 de son père Michael dimanche avant le départ du Grand Prix de Toscane. #F1 pic.twitter.com/ALQ5UyGF2b

— Julien Billiotte (@jbilliotte) September 9, 2020
"Even the look of the race numbers on Charles' and Sebastian's cars will reflect the tradition of the past, giving the impression of being hand-painted onto the bodywork, while the drivers' race suits will also match the car colour."
He also expressed his gratitude to the FIA for honoring the team that have been the most loyal and most consistent team over the course of the 71 years. Piero takes pride in Ferrari not missing a single Grand Prix throughout these years.
ADVERTISEMENT
Article continues below this ad
Although Piero boasts of the brilliant engines and mind-boggling strategies, Ferrari has endured a rather unfortunate tale in these avenues this season.
Looking into the Circuit
The Mugello Circuit poses a serious challenge to the racers with its esses and the two long straights. The setting is compatible with the SF1000s and both the racers will be looking forward to making most of it.
ADVERTISEMENT
Article continues below this ad
Both of them have expressed their excitement ahead of their race at Ferrari's 1000th Grand Prix. In addition, the prospect of adding some points to their championship campaign brings them some much-needed joy.