Sebastian Vettel: Racing Point Boss Shuts the Door on Potential Aston Martin Seat in Bizarre Interview
Published 09/09/2020, 8:13 AM EDT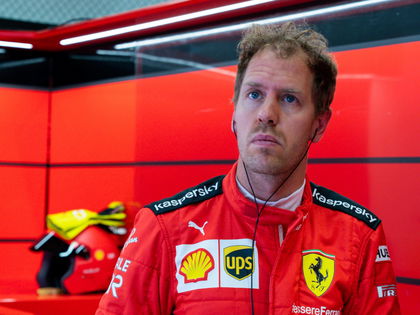 ---
---
With all the frantic racing action that we witnessed, it's no surprise that the transfer rumor mill has now been shut. But when it was moving at terminal velocity, it kept churning out rumors that linked Sebastian Vettel to Racing Point (Aston Martin) for 2021.
ADVERTISEMENT
Article continues below this ad
However, these rumors haven't materialized into anything remotely meaningful so far, and according to Racing Point's Otmar Szafnauer, they never will. In an interview with Auto Motor und Sport, the Team Principal revealed a piece of news that casts a big shadow of doubt over the future of Vettel in F1.
Szafnauer was asked about when the team would confirm their driver lineup for next season. He said (translated by Google), "We did that two years ago. There is nothing more to confirm."
ADVERTISEMENT
Article continues below this ad
He was further asked a pointed question, whether his remark meant Vettel is out of consideration for a seat. To this, he simply replied, "It was never there."
The Racing Point boss didn't offer any further comment and put an end to the interview saying, "Let's end the interview with the last two questions."
While you could say that Otmar's comments were pretty straightforward, the abruptness of it makes it intriguing. Either he is really fed up with the constant Vettel rumors or something interesting has transpired behind the scenes.
Perhaps something that left a bitter taste in his mouth.
What now for Sebastian Vettel?
Dear, oh dear. It looks as though Vettel's last hope for getting a competitive seat in 2021 has withered away. What happens now? Does this mean we are seeing the last of Sebastian Vettel in the sport of Formula 1?
However, Vettel may as well take a year off and find his way back to the paddock 2022 with better options on the table. But is Vettel the kind of guy who could walk in and out of the sport as he pleases? It sounds unlikely.
The only teams that are yet to confirm their driver lineups for 2021 are Alfa Romeo, Haas, and AlphaTauri. With respect to the first two, it's highly unlikely a man so competitive would settle for a team that would be at the back of the grid.
Surely, Vettel wouldn't want another repeat of 2020.
ADVERTISEMENT
Article continues below this ad
And as far as a return to AlphaTauri is concerned, that prospect seems far-fetched as well. Firstly, because they prefer to have two younger drivers who could be promoted to Red Bull. Secondly, they aren't going to be competing for wins.
A seat at the coveted Red Bull remains ripe for the taking. However, Pierre Gasly's recent performances have ensured that the fight to be Max Verstappen's partner will take place between him and the incumbent Alex Albon.
So, it already seems like Vettel is a man on the outside looking in. What does fate hold for Sebastian Vettel? Watch this space to find out.
ADVERTISEMENT
Article continues below this ad