Twitter Blows Up as Ferrari's Michael Schumacher Post Triggers Lewis Hamilton Debate
Published 08/26/2021, 2:37 AM EDT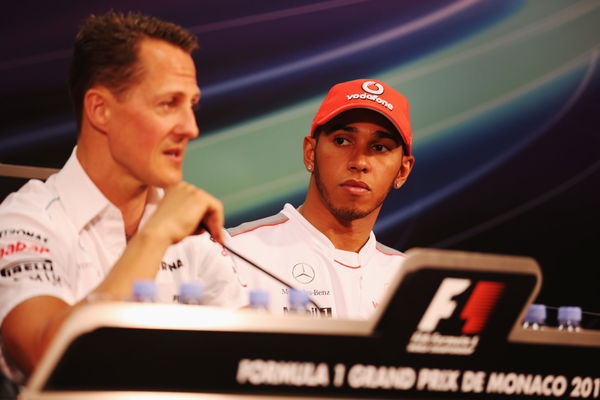 ---
---
Earlier this year, the Silverstone incident caused a massive stir between the fans of Lewis Hamilton and Max Verstappen. However, the summer break has pretty much quietened the social media clashes, with the entire fandom glued together again, awaiting the arrival of the Belgian GP.
ADVERTISEMENT
Article continues below this ad
Amidst the cooldown phase, Ferrari may have stirred up another social media feud between two different groups of fans. The Scuderia outfit recently tweeted an extraordinary fact about the racing legend, Michael Schumacher.
ADVERTISEMENT
Article continues below this ad
Ferrari pointed out that, with August 25, 2021, it had been 30 years since the German stepped his foot into the world of F1. But, that wasn't what caused the social media war. Instead, it's how they described Schumacher, which potentially triggered a lot of Hamilton fans.
Ferrari claimed Schumacher to be the most successful driver in the history of Formula 1. And a lot of Hamilton admirers were absolutely unhappy with it. Many even started bringing up statistics of Hamilton and compared them with that of Schumacher in a bid to prove Ferrari's statement wrong.
How a lot of Hamilton fans reacted to the Tweet
Truly a brilliant Driver, He did what he had to do to win World Championships, no matter what, Ask Damon Hill and a couple of others.
He wasn't always sweetness and light.
However Lewis Hamilton truly is the GOAT. He has never been nasty, always fair. And a true ambassador to F1

— gus divito (@DivitoGus) August 25, 2021
Revisionist whitewashed history. Lewis Hamilton is the most successful driver in Formula One history, so let's not

— Tenesha! (@Teneshashashash) August 25, 2021
All these Lewis fanboys! Can't imagine Lewis taking a team that's not won a m/facturers championship for 16 years to the title .. He's the 'GOAT' in the GOAT of all time, with poor team mates! Period!! #fanboys #lmfao

— Mark Booth (@baldvirgil) August 25, 2021
Hopefully this argument will be put to rest at the end of the season when hopefully HAM chalks his 8th. Begets belief that HAM's stats; most wins, poles, same number of titles as SCHUMI & you still consider SCHUMI the most successful in history? It will be made crystal clear soon

— skwesi (@skwesi) August 25, 2021
Well statistically Lewis Hamilton is the most successful driver in #F1 history.

— Hadi Pawar (@hadi_pawar) August 25, 2021
If Lewis will ever drive like Schumi in '98, then he'll be the greatest. Otherwise he will be only a great pilot sitting on the right car at the right moment.

— L (@Therose1977) August 25, 2021
It might pain you that Lewis Hamilton is statistically the most successful driver to ever grace our sport, but it certainly wouldn't Michael.

"Records are there to be broken" — Michael Schumacher.

— ً (@jordan_sp1) August 25, 2021
Is Lewis Hamilton really the GOAT?
One may point out the fact that both Hamilton and Schumacher competed in an entirely different racing era. Hence, it is almost unfair to compare the duo, considering the circumstances were quite different. However, if one does yearn to know the answer, it's definitely Hamilton.
Of course, Hamilton has driven with what is probably one of the most dominant F1 cars of the hybrid era. Nevertheless, he utilized the advantage to a feasible extent and has gained massive returns. Three of the major factors to compare the duo are the championship titles, race wins, and pole positions.
ADVERTISEMENT
Article continues below this ad
While Hamilton and Schumacher are tied with 7 world championship titles, the other factors have seen the Briton leading the table by a huge margin. Hamilton already owns 99 race wins to his name and a total of 101 pole positions. Meanwhile, Schumacher has earned 91 race wins and 68 pole positions. Hence, when compared through stats, Hamilton does stand out against Schumacher.
ADVERTISEMENT
Article continues below this ad
But, again, it would be highly unfair to do so. Instead, the best possible way to describe the duo would be the fact that Schumacher and Hamilton are the most successful F1 drivers of their own era.
Watch Story: Ugliest Moments in Hamilton-Rosberg Rivalry