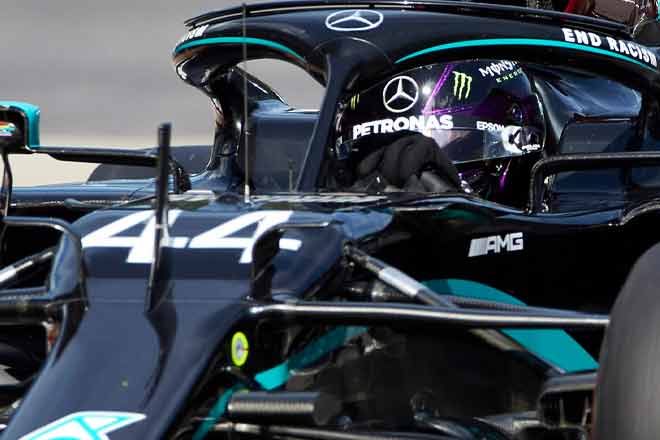 The 2020 British Grand Prix has concluded with Lewis Hamilton clinching yet another victory. However, the home hero was made to sweat on the final lap, as a late onset of tire blowouts struck the grid.
The Mercedes team members had no fingernails left after Valtteri Bottas and Lewis Hamilton found their front tires delaminating. One really had to wonder if everyone was participating in a 'Drive Till the Tyres Explode' challenge.
The drama began before the race even kicked off as a heartbroken and helpless Nico Hulkenberg could not even make the start. As it turned out, a car issue confined his car to the garage and Lance Stroll had to shoulder the responsibility alone.
Later on, Alex Albon got involved in a spot of trouble as he collided with Kevin Magnussen.
The next man to fall was AlphaTauri's Daniil Kvyat, who spun at Maggotts and Becketts after a suspected tire failure. Afterward, the excitement died down for a while and everyone settled into their own races.
Little did anyone realize that the REAL fun was just about to begin and the fuse was already lit.
ALSO READ- WATCH: Lewis Hamilton Barely Wins the British Grand Prix Amidst Crazy Last Lap Drama
Lahjhfkasjhfakjhsfaskjhfkajshf 🤯#BritishGP 🇬🇧 #F1

— Formula 1 (@F1) August 2, 2020
So the 2020 British Grand Prix was Pixar's Cars https://t.co/j2ekixu3go

— WTF1 (@wtf1official) August 2, 2020
How did Lewis Hamilton survive the crazy last few laps?
With a handful of laps on the scoreboard, the carnage began in earnest, with Kimi Raikkonen triggering everything. His tire was one of the first to blow up. Then, it was Valtteri Bottas, who proved that even the front-runners were not safe from disaster.
Carlos Sainz found himself also suffering when his tire also let go and he dropped like a stone. Finally, fate decided to go big and targeted a certain Lewis Hamilton, and his tire also blew up spectacularly.
The bad news was that it was the last lap, and he had already passed the pit lane, so he had to trundle around the track.
To make matters worse, Max Verstappen took big chunks out of his 20+ second lead, but Hamilton had enough juice to cross the finish line ahead.
HQYACQUACYQGABAHWVAKDBXKCOEHAPZHXNCYWKAJJZ

— Mercedes-AMG F1 (@MercedesAMGF1) August 2, 2020
WHAT IS GOING ON?!?!!?

— WILLIAMS RACING (@WilliamsRacing) August 2, 2020
Everyone when hamilton and bottas got a flat tire #BritishGP #WTF1 #Formula1 pic.twitter.com/A7S5webrIm

— Anass (@Jan96101163) August 2, 2020
Lewis Hamilton on the final lap of the #BritishGP 😂#Formula1 #Silverstone pic.twitter.com/gzNhxA2H7N

— Syed 🇺🇿🇵🇰 (@DrakesWriter1) August 2, 2020
Watching Hulkenberg jumping out of the car before the start #WTF1 #BritishGP #Formula1 pic.twitter.com/tvtZWW2kUU

— Eoin (@eoinio11) August 2, 2020