Unveiled Lewis Hamilton Picture Reveals $57,000 Max Verstappen-Like F1 Move at Spanish GP
Published 05/24/2022, 9:00 AM EDT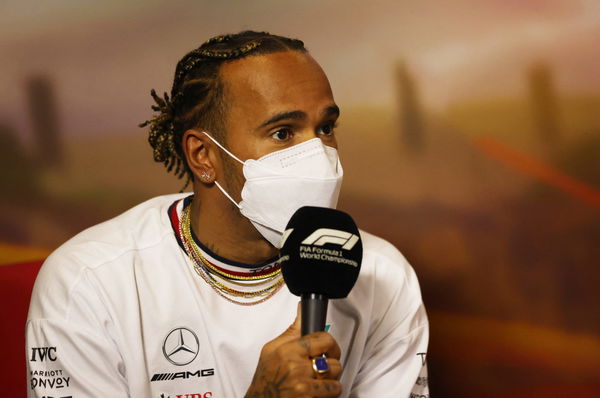 Lewis Hamilton is stepping into the same hot water as Verstappen did back in Brazil. A picture of the British world champion popped up on the internet near Sergio Perez's RB-18 during a parc ferme. An act prohibited by regulations that earned Verstappen a hefty fine of $57,000 last season in Brazil.
ADVERTISEMENT
Article continues below this ad
A video captured Max touching Lewis's rear wing, for which the FIA fined Verstappen. The same allegations are being put on Lewis and there are claims the FIA should fine him as well. However, the still picture doesn't really tell the full story, but we're sure there will be an investigation.
ADVERTISEMENT
Article continues below this ad
And since there is no timestamp on the picture, no one can guarantee if the car was in parc ferme. And before we use the term "parc ferme" one more time, let us explain what it means.
According to Motorsport.com, in modern F1, Article 2.5.1 of the FIA ISC or parc ferme also refers to certain periods of time during a Grand Prix weekend when the cars are in their garages but placed under the eye of a scrutineer and they restrict teams in the work they can do on them. The scrutineer in this case are the stewards.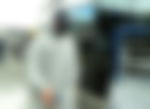 Parc ferme has serious consequences, as Verstappen found out the hard way. And article 2.5.1 was exactly what he breached when he touched Hamilton's Mercedes last year. And now history repeats itself as Hamilton is photographed touching Perez's Red Bull. Touching, or so it seems, we will not know for sure until there is an official statement from the FIA.
Twitter reacts to Lewis Hamilton photographed breaching parc ferme
The photograph has split Twitter in two as the fans share their personal opinions on the social media platform. Some demand the same fine as the one levied on Verstappen. While others point out the technical issues with the photos, making them inadmissible as sufficient proof.
Whatever the case may be, we have some split Twitter reactions for you!
Yea there isn't an available timestamp etc so we don't know when it was. I don't think he broke any rules.

— Maplesoup (@DatMapleSoup) May 24, 2022
Only Sir Lewis Hamilton could have major Motorsport media outlets spreading misinformation & fake news based on whether he touched a rival car that's not even in Parc Ferme, when in reality he just walked past it doing everything he could to avoid touching it.

— Jamez🏁 (@F1Jamez) May 24, 2022
ADVERTISEMENT
Article continues below this ad
These media outlets are all about stirring controversy.

— Zee🇿🇦🇰🇷🇲🇾 (@zeeman223) May 24, 2022
ADVERTISEMENT
Article continues below this ad
Now that Twitter's judgment is out there, we will patiently wait for FIA's judgment on this incident. Let's hope there is nothing to read into this incident and Lewis can focus on the Monaco Grand Prix instead of fines.
Watch This Story: Charles Leclerc Robs Cursed Drake Of Whopping Amount Owing To Spanish GP Tragedy
Edited By: Vibhanshu Kumar