Valtteri Bottas Convinces Lewis Hamilton to Remake Iconic 'Bums Out' Portrait While Fulfilling Ex-Mercedes F1 Teammate's Wish
Published 05/27/2022, 5:48 AM EDT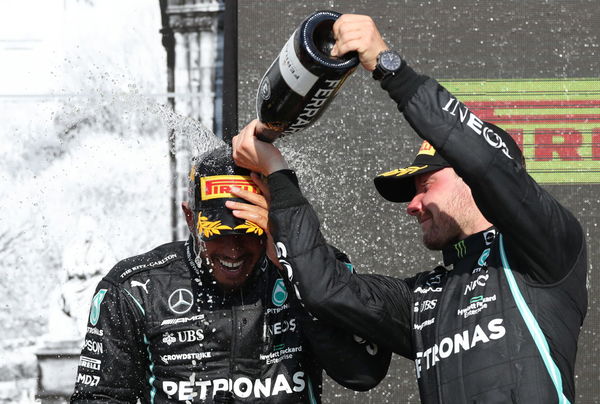 After spending five seasons together, Lewis Hamilton and Valtteri Bottas have plenty of memories together. But with this latest show of affection, Bottas made sure Lewis would never forget him. So much so that Lewis even commented, "Now I will never forget you," on Bottas's Instagram post.
The show of affection is Bottas gifting his skinny dipping photo from Aspen, to Lewis. To be precise, the one he shared on his Instagram on May 11. "To Lewis" signed Bottas as he gifted his former teammate and friend the framed photo of him. Interestingly enough, however, the Alfa Romeo man used this photo to raise money for a charity.
ADVERTISEMENT
Article continues below this ad
Bottas even mentions the number of copies sold after the pair exchange the photo, "We sold over 5000 of those for charity in 24 hours."
"Amazing," exclaimed Lewis before laughingly adding, "Next time I'm in Colorado, I'll get my bums out and repeat the same image and then send you one."
The charity aspect involved with the picture made Lewis claim he would buy the picture. And that is exactly why Bottas invited the Mercedes man to gift him the framed photo. However, Lewis could not get over the photo and the fact he now has Bottas's bottom framed and signed by him. Therefore, he jokingly added, "Not that I already don't have stuff to remember by but this one..so good." 
Now we will just patiently wait for Lewis to recreate the photo. That photo could raise a lot of money for charity too!
Lewis Hamilton could not celebrate the last Monaco GP win
ADVERTISEMENT
Article continues below this ad
The iconic Monaco Grand Prix is 78 laps long, and that can take a heavy toll on all drivers. So much so that Hamilton could not celebrate his last Monaco GP win and termed it the "most draining," before adding, "Mentally and psychologically it is probably the most draining [race] because it is so narrow, so quick, so short between the corners."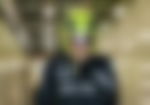 Hamilton is heading into the weekend at sixth in the driver's championship. But with renewed hope and will to win, especially after the incredible showing at the Spanish GP, Lewis will look to get the fourth Monaco win of his career.
ADVERTISEMENT
Article continues below this ad
Watch This Story: Ricciardo Redemption Frozen Bottas: Dramatic F1 Moments In Monaco GP History
The weekend in Monte Carlo promises a lot of excitement, as always. We look forward to Lewis being a major reason for the excitement. However, there are also reports that suggest Hamilton might face sanction over wearing piercings at Monaco GP this weekend. What do you think? Will Lewis be allowed to race this weekend if he decides to keep his nose stud?
Edited By: Ranvijay Singh