Valtteri Bottas Enjoys a Cup of Joe While F1 Twitter Embraces Iconic Meme
Published 10/01/2021, 8:31 AM EDT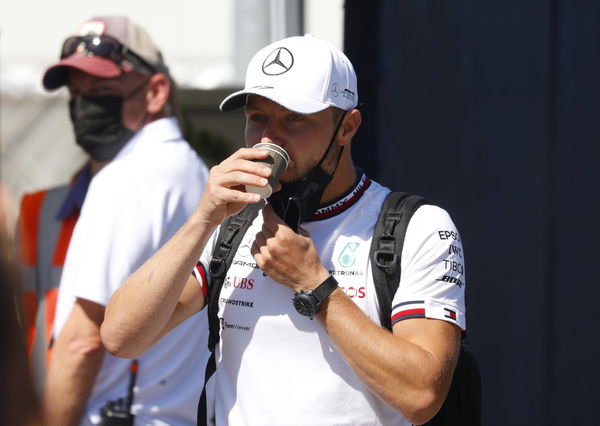 ---
---
Mercedes decided to celebrate International Coffee day with its official coffee ambassador: Mr. Valtteri Bottas. Also known as F1's meme lord, Valtteri Bottas has once again taken over the internet with a throwback to an iconic meme.
ADVERTISEMENT
Article continues below this ad
We seldom see Valtteri Bottas without a cup of coffee in his hand. so, it was only fitting for the Finn to commemorate the day by tipping his coffee cup in salute. However instead of the usual "cheers", Bottas put an iconic spin to it; "Traditions!" said the driver, before taking a long sip of his cup of joe.
ADVERTISEMENT
Article continues below this ad
Twitter loves the Bottas-coffee bromance
As always, Bottas knows how to stir the internet. Twitter loved the meme cross-referencing and even brought back memories of the Mercedes driver and his beloved coffee.
Some even brought some painful memories for the driver. Like that one time, he spilled his liquid gold over his white jumpsuit… that was a close one!
Others made some very interesting and creative coffee jokes. Bottas has a secret second love- his porridge. While porridge found its way into the jokes, there was also this very well-crafted pun…
You've forgot about international porridge day

— Steven (@stevieplatypus) October 1, 2021
Further, Alpha Romeo featured in multiple tweets as well. However, while some were jokes, many were worried that they won't see much of this content next year. The Mercedes twitter admin has become popular over the last season, with ruthless jokes and well-thought-of content. Especially small things like Valtteri Bottas TikToks. One can only hope Alpha Romeo will take good care of our internet sensation.
"Next year I'm driving for Alfa Romeo. To whom so it may concern" ☕️

— Ťríål øf Ţêär§ (@SerenityJaded) October 1, 2021
Valtteri Bottas- the source of F1 twitter's jokes
It's easy to make memes about the Finn because he so readily embraces it. Whether it's posting about Mercedes on his Instagram or referencing his own memes, Bottas surprisingly remains a limitless source of fun.
ADVERTISEMENT
Article continues below this ad
Even Red Bull took its turn at pulling Bottas' leg. The infamous "Valtteri, it's James," team order radios have become an accepted joke to the driver's fate. Referring to Bottas letting Verstappen easily pass him at the Russian GP, Red Bull captioned their video: "Valtteri, it's Max"
ADVERTISEMENT
Article continues below this ad
Now, as Bottas makes his way to Alpha Romeo, there'll be no more James, but for sure Bottas will continue with his carefree meme-worthy ways. The latest addition to the list being his post-race interview at Monza, we now have 7 more rounds of Mercedes memes that are unlikely to go dry, like Bottas' coffee.
Watch this story: What Are Sprint Races & Where Will They Be Held?