Verstappen Catches Lewis Hamilton by Surprise Over Mercedes Engine Mystery
Published 12/14/2020, 7:14 AM EST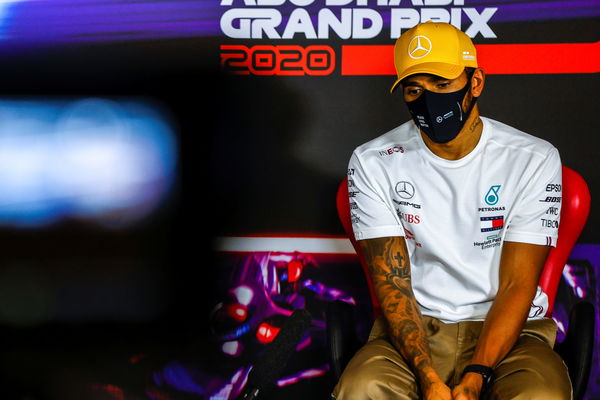 ---
---
Mercedes had a lot happening in the last round of the championship. Although fans are complaining about Abu Dhabi being one of the most boring races, the sensations underlying were magnificent. But Silver Arrows may have forgotten to inform Lewis Hamilton about a recent modification to the engine.
ADVERTISEMENT
Article continues below this ad
Lewis Hamilton bounced back from the clutches of COVID-19 to compete in the last race of the year at Abu Dhabi. George Russell maneuvered his car brilliantly at Sakhir.
It was a mirror reflection of his compatriot driving through the season. However, between him leaving and Lewis joining back, Mercedes had altered the performance of the MGU-K.
ADVERTISEMENT
Article continues below this ad
This would have been fine by the 7-time champ if his team would've informed him earlier. However, he got taken aback to learn about this from his Red Bull adversary after the race. Max's revelation in the post-race press meet was the first time Lewis got wind of the entire affair.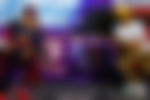 "Of course I read that they had turned their engines down a bit. Of course, that doesn't help," stated Max Verstappen. This alarmed Lewis and he asked Max to elaborate further. When Max affirmed the news for a second time, the news shocked Lewis to a great extent.
"Is that true? I don't think so,"  questioned Lewis, confused. Even Bottas claimed to have no notice about the same. He stated, "Maybe it is so, but we don't know anything about it." Well, is Mercedes hiding something from its drivers?
Why Mercedes turned the engines down
The story that might have hurt both the Mercedes drivers actually may have a hilarious source. Motorsport-Total.com had already found an explanation about the diminishing speed of the W11s at Abu Dhabi. Their 'Paddock Live' on Saturday had Toto Wolff render a detailed explanation of the same.
"We have a bit of a gremlin in there. The MGU-K is below the mileage it should normally do. We don't understand exactly why yet. So we've taken a little performance out of all Mercedes engines," concluded Toto.
Transparency is the biggest strength in a sports team. However, if not maintained well, it can be the biggest fault in the fabric of a team. Mercedes has been doing a wonderful job in the arena. Maybe they will want to keep that well, to be in the front.
ADVERTISEMENT
Article continues below this ad
"We definitely have work ahead of us. But I'm just grateful that we made it to the finish line. We don't need the motors anymore, anyway.
"And they were good enough for a couple of donuts!" concluded Hamilton. Well, if he is fine with it, so are we. Well, done champ, and all the best for your future.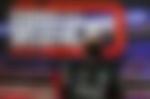 ADVERTISEMENT
Article continues below this ad