Verstappen Sympathizes With Leclerc After Controversial End to Monaco Qualifying
Published 05/23/2021, 4:37 AM EDT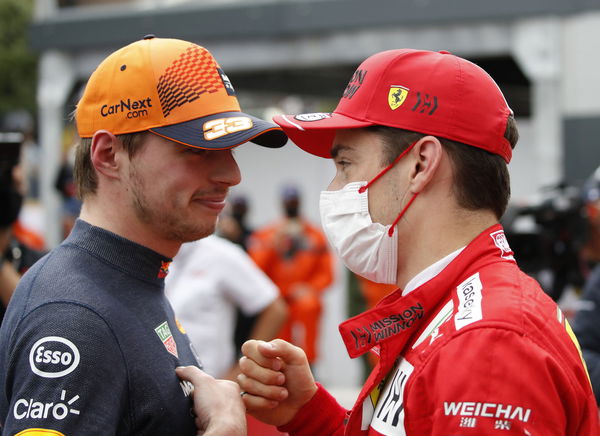 ---
---
After Charles Leclerc crashed during the final moments of Q3 in Monaco, while running as the provisional pole sitter, many believed he crashed intentionally to keep the pole to himself. However, Max Verstappen doesn't agree with the Monegasque's critics, despite being disappointed with not getting pole himself.
ADVERTISEMENT
Article continues below this ad
As of now, things aren't that gloomy for the Red Bull driver, as he starts in P2 behind the Ferrari driver.
Max Verstappen knows that Leclerc wouldn't crash intentionally
ADVERTISEMENT
Article continues below this ad
Speaking at the press conference after the qualifying session, Verstappen said, "I think there is a difference when a guy makes a mistake and hits the wall, or doing it intentionally. I think had Charles just parked with a broken front wing, it's a different story.
He added, "But of course he just clipped the wall, initially, and then ended up where I've ended up twice! So, it's just unfortunate. Of course, I'm disappointed to not have a shot at pole but that's life.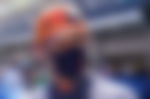 "Sometimes you can't do it. It's fine. I don't think his lap should have, or should be deleted in the future if possibly they want to make rule changes. I don't think that would be fair.
"Because we're all trying so hard and it's not so easy around here, especially on the limit. It's easy to make a mistake," Verstappen concluded.
Verstappen gives a warning to Red Bull after seeing the performance of Ferrari
The Maranello squad were strong since the first practice session Thursday, Now with Leclerc on pole for Sunday's race, Verstappen warns his Milton-Keynes colleagues to improve if they want to win.
As quoted by Racingnews365, The Dutchman said, "We are too slow and not much. Normally it is a lot easier to get up to speed, but I don't want to be able to do that this weekend.
ADVERTISEMENT
Article continues below this ad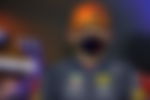 "The gap with Ferrari is extra big because they are doing well and we are not," Verstappen concluded. (Translated from Dutch via Google)
We are just hours away from the prestigious Monaco Grand Prix. Do you think Verstappen can overtake Leclerc in the opening laps of the race, or will Monégasque defend his position? Let us know in the comments below.
ADVERTISEMENT
Article continues below this ad