VIDEO: Six Cars Involved in the Most Dangerous Crash of the Year at Treacherous Spa F1 Track
Published 08/27/2021, 11:59 AM EDT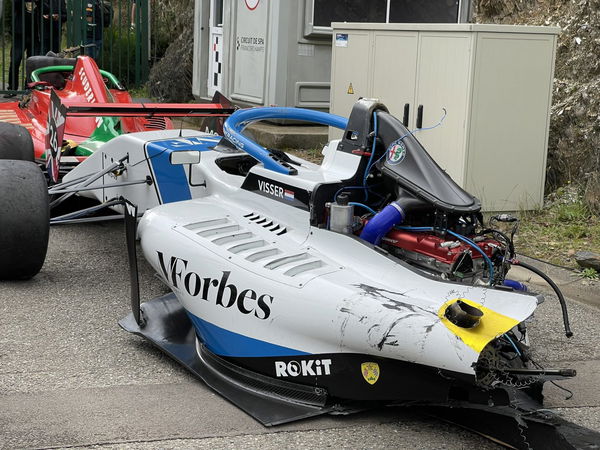 ---
---
Spa Francorchamps is undeniably a mesmerizing yet one of the most dangerous circuits in the entire world. And there are several incidents that have constantly proven the statement absolutely right. The latest to join the list being drivers from the W-Series, hardly minutes after the FP2 session in F1.
ADVERTISEMENT
Article continues below this ad
It isn't just about the entire circuit, but the section of corners in sector 1 – the Raidillon & Eau Rouge. In 2019, turn 5 ended up being the triggering point for Anthoine Hubert's death, and the near-grave injuries for Juan Manuel Correa.
2 years later, W-Series is here to take us down memory lane.
ADVERTISEMENT
Article continues below this ad
What happened in W-Series at Belgian GP?
During the qualifying session at Spa, over 6 drivers were involved in a severe multi-car crash around the scary Raidillon/Eau Rouge corner.
With rain starting to show up unannounced, the damp track caught the drivers including Fabienne Wohlwend and Sarah Moore, off-guard. Most of the drivers were on a flying lap, and the lack of grip meant that the cars started driving off the track around the exit of Eau Rouge.
Consequently, due to the impact on the barrier, they started rebounding onto the track, ending up on the firing line of other impending cars.
This led to an intense pile-up, as cars crashed amongst each other, causing a flurry of debris across the circuit. The stewards immediately called off the session, and the medical team subsequently arrived at the scene.
Update on the drivers involved in the crash
The session did restart minutes after the crash, as Jamie Chadwick went on to secure the pole position. However, W-Series opted against giving out an update on the conditions of the drivers.
Soon after, the cameras caught both Moore and Wohlwend already arriving in their respective garages, filtering the concerns down to 4 other drivers.
Thankfully, moments after chequered flag waved over the session, the commentators affirmed that the remaining drivers, too, were safe.
Raidllion/Eau Rouge proving to be too risky for F1?
This is the third such incident around Raidillon/Eau Rouge. Of course, it was the tragic Hubert incident in 2019. But, earlier this year, Jack Aitken was involved in another multi-car crash around the same corner while competing in GT World Challenge.
ADVERTISEMENT
Article continues below this ad
Similar to other incidents, his car crashed into the barriers around Raidillon and bounced back onto the track, where another car rammed straight into him, causing a chain reaction. Ultimately, Aitken suffered a broken collarbone, Vertebra, and a possible lung contusion.
Overall, Eau Rouge is proving to be a serious concern in a lot of racing series, with too many incidents taking place in recent times. So, will Spa Francorchamps undergo major tweaking around the dangerous section of corners to safeguard the drivers' life in the future? Well, we'll know in time.
Watch Story: From Prince to the Queen: When F1 Stars Interacted With the Royal Family
ADVERTISEMENT
Article continues below this ad