WATCH: Alonso & Russell Share a Heartwarming Hug After Gladiator F1 Battle at Austrian GP
Published 07/04/2021, 1:28 PM EDT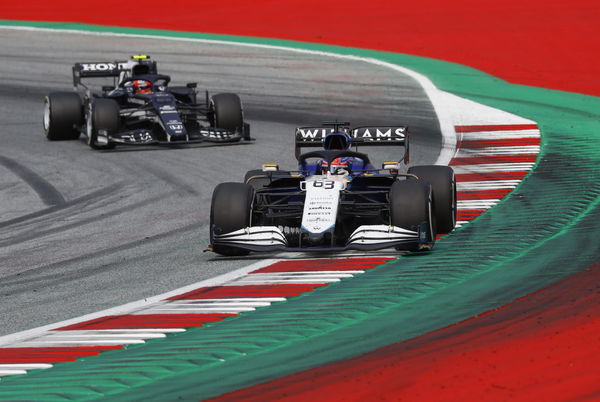 ---
---
The Austrian GP gave, and it just kept on giving from the first couple of minutes, down to the very last second. The race was something worth tuning into. The race was between George Russell and Fernando Alonso added to the drama of the race; the two battled it out for P10 till the checkered flag. While the F1 veteran rounded off the top ten, it meant that Russell would sit on P11.
ADVERTISEMENT
Article continues below this ad
The two drivers, however, were the only ones with a respectable tussle during the race. While most battles resulted in cars getting pushed to the gravel, and others getting penalties, Russell and Alonso fought clean.
The battle was sealed when the Alpine, on lap 68, had DRS and was close enough to the Williams to make it past on Turn 4. Russell had held Alonso back for 10 laps and fought hard to bring that point home.
ADVERTISEMENT
Article continues below this ad
This healthy rivalry continued after the race was over. On their cooldown lap, Alonso is seen waving to Russell, even giving him a well-deserved thumbs up.
The Williams driver had a productive weekend and everyone was rooting for him to finish within the points. He had a rough start to the race and fought hard to the end. "So close yet so far," he concluded, in a post-race interview.
The Spaniard consoled Russell by giving him a hug on the pit lane. It is clear that everyone appreciates the effort Russell has been putting in on track.
Fernando Alonso's faith in George Russell
The lack of animosity after an intense wheel-to-wheel battle at the Red Bull ring only reflects the amount of respect the two drivers have for each other.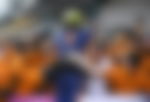 Although he is yet to score points as a Williams driver, the 23-year-old has shown great promise as a driver. While his teammate, Nicholas Latifi, usually falls to the bottom of the grid, Russell has pushed the Williams beyond its limit.
A two-time world champion himself, Alonso has observed this talent and foresees Russell to be the future world champion.
Commending Russell's race in Bahrain, he said, "The opportunity with the Mercedes… I think it was a real opportunity for everyone to watch what a driver with the talent of George can do with a winning car. He nearly won the first race at the first opportunity he had.
"That, I think, was proof for many people, not only a few, that we knew how good he was; that race in Bahrain was enough to open [the eyes] of millions of people."
ADVERTISEMENT
Article continues below this ad
With rumors of Russell getting the second seat at Mercedes, it may be only a matter of time before Alonso's predictions come true. Nonetheless, one can only hope this is the first of many more battles between the two drivers.
ADVERTISEMENT
Article continues below this ad
Watch story: Love Is in the Paddock: F1 Fraternity Rings in Valentine's Day