Watch: Charles Leclerc and Lando Norris Makes Fun of Alex Albon's Embarrassing Moment Live on Twitch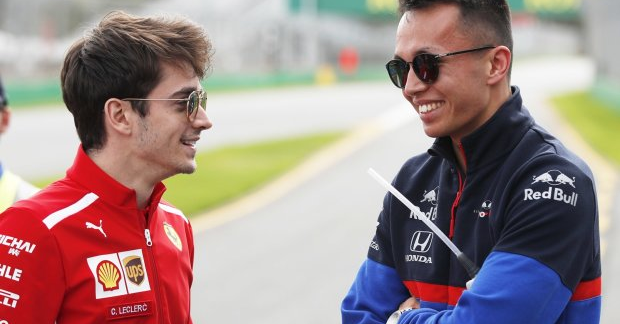 Due to the Coronavirus pandemic, it is as of now impractical to run races on genuine circuits, so racing is at present just accessible online for the drivers. Also, numerous racers go through a few hours daily rehearsing or having a ton of fun on virtual tracks. These include Charles Leclerc, Alex Albon, George Russell, and Lando Norris, among others. They even participated in a progression of charity races to raise more than $ 70,000 to battle the coronavirus.
What's more, they play a great deal. They all have Twitch channels that they stream on, now and again together, in some cases independently.
Juan Manuel Correa, the F2 driver even made fun of the young F1 drivers saying that they seem to have too much free time.
Charles Leclerc made fun of Alex Albon
Alex's Sound – Clip of charlesleclerc – Twitch Clips

Clip of charlesleclerc Playing Assetto Corsa Competizione – Clipped by justind33
Charles Leclerc's enthusiasm for online races presently appears limitless. Ferrari's Monegasque over a recent couple of days has frequently challenged F1 rivals Alex Albon, George Russell, and Lando Norris in F1 2019 competitions. He even won two Virtual GP on two in which he participated.
The youthful racer doesn't appear to be hesitant to attempt new difficulties, even on various gaming platforms, and on vehicle models far off from those he is accustomed to driving. He is currently giving a shot to the Assetto Corsa Competizione.
Leclerc experienced the game, which additionally incorporates Ferrari and tracks like Monza, Zandvoort, Paul Ricard, Silverstone, Monaco, Spa, the Nürburgring. The Monegasque made a move this week against Valentino Rossi, among others.
These young drivers are even good at roasting each other. A similar incident happened recently when they all were racing on Assetto Corsa Competizione.
While playing the game, Leclerc heard some weird noises from Albon's end. The drivers instantly burst into laughter. Leclerc jokingly asked: "what was that!!, did you sh*t on yourself, Alex?"
Lando Norris was also the part of the stream with Leclerc and Albon. The drivers were left laughing at the embarrassing moment of Alex Albon, while they were still live on twitch.
Abhay Aggarwal
I am an avid follower of Formula One, Baseball, Cricket, and Lawn Tennis #MercedesAMG #Yankees