Watch : Charles Leclerc Battles F2 "GOAT" Mahaveer Raghunathan In a Battle For the Ages
Published 06/07/2020, 2:27 AM EDT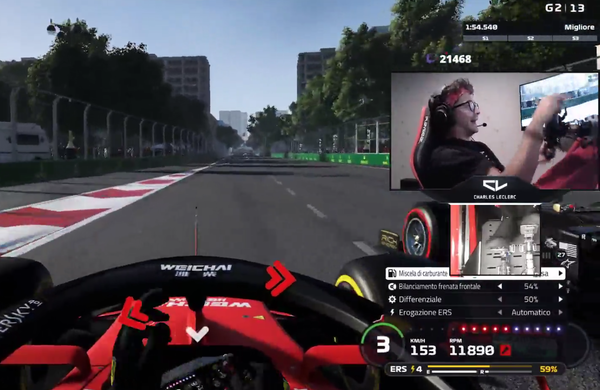 ---
---
Charles Leclerc has been dominating the Esports scene as of late. The young Monegasque spends many hours grinding away at F1 2019 and it pays off during the virtual races. In yesterday's Not the GP, Leclerc faced his most formidable opponent yet.
ADVERTISEMENT
Article continues below this ad
Charles Leclerc v Mahaveer Raghunathan
Leclerc's gone toe to toe with some of the best sim drivers and even his fellow F1 drivers during Virtual Gp's. During the Not the Azerbaijan Grand Prix, Leclerc battled it out against one of the most feared drivers in the junior categories.
ADVERTISEMENT
Article continues below this ad
If you haven't caught on yet, the driver in question is the man, the myth, the legend – Mahaveer Raghunathan!
Raghunathan is an enigma from Formula 2. No, not because of his racecraft, but one could argue that it's his racecraft that sets him apart. Let's just say, if you see Mahaveer in your mirrors, you have plenty to worry about.
Remember Ayrton Senna's famous quote of "going for a gap"? Well, Raghunathan takes that a step forward by making his own gaps and racing lines. Those two painted white lines called "track limits"? pfft, Lord Raghunathan knows no limits.
Anyway, in yesterday's virtual race, Leclerc tangled with Raghunathan, and as expected, it didn't end well for the Ferrari driver. The pair went wheel to wheel on the streets of Baku and battled it out on the back straight.
Watch charlesleclerc's clip titled "Charles v the goat"
The battle was something along the lines of "two men enter, no men leave". But props to Charles, he saw the funny side of things and even acknowledged Raghunathan's unconquerable aura.
ADVERTISEMENT
Article continues below this ad
The Monegasque had a few interesting things to say when reminiscing about Raghunathan. Speaking to his fans via his Twitch channel, Leclerc said:
"He crashed into me in free practice and I was very angry and then I think he crashed into me again in quali and I was even more angry."
Mahaveer even out qualified Leclerc! The Monegasque had no option but to concede defeat.
ADVERTISEMENT
Article continues below this ad
"Mahaveer! Lord Mahaveer is p13, I'm p18!"
We're all laughing at Raghunathan today, but who knows, the F2 legend could make it to Formula 1 one day and even become World Champion!