Watch: Charles Leclerc Freaks out as His Girlfriend Crashes Into Sebastian Vettel on F1 2019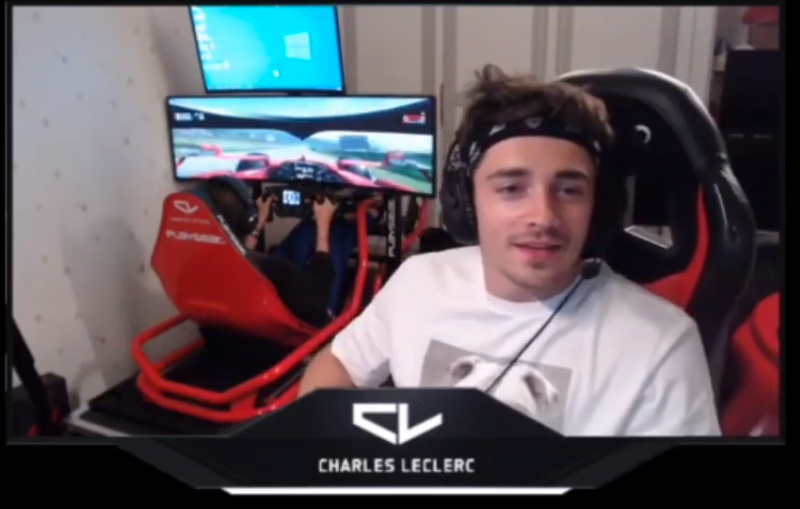 The whole F1 paddock is still shocked by the news of Sebastian Vettel leaving Ferrari after the 2020 season. The team has announced that Carlos Sainz jr will replace Vettel. The Spaniard will share the drive with Charles Leclerc. Ferrari team principal Mattia Binotto is quite happy with the 2021 lineup.
He said: "We believe that a driver pairing with the talent and personality of Charles and Carlos, the youngest in the past fifty years of the Scuderia, will be the best possible combination to help us reach the goals we have set ourselves".
The Monegasque is living with his girlfriend. Though he states that current circumstance of the world is "not very fun", he is, however, coping well, spending lockdown in his Monaco home with his girlfriend.
"I am more enjoying than struggling," he says. "Sometimes we get angry with each other, but that doesn't happen often."
. @Charles_Leclerc "She is P1. What a start."

Charles abandoning his own game to watch Charlotte play F1 😂 pic.twitter.com/bzMkBl6RrX

— tami. (@Vetteleclerc) May 14, 2020
Charles Leclerc and his gaming adventure
The pandemic has not stopped the young guns of F1 from playing Esports. Charles Leclerc is an all-rounder and enjoys playing a variety of games online. This time he was streaming the Call of Duty, while his girlfriend Charlotte Sine was racing on F1 2019 in place of him.
Charlotte was driving quite phenomenally. This led to Charles leaving his game and watching his girlfriend drive on the live twitch streaming. The Ferrari driver was giving instructions to his girlfriend while she was driving past all the other racers.
He said, "Ohh my god, she is P2."
Charles Leclerc was thrilled with the way she was driving, and then she got to P1.
He said, "She is P1!! P1, What a start. She pushed a little bit but not so bad."
"She put Seb out! No!… We can't do this!" 😅 pic.twitter.com/sEtuUPMd1W

— Ky (@FiftyBucksss) May 14, 2020
At one point, Charlotte pushed Sebastian out. Charles said, "She put Seb out! No!… We can't do this!"
With all this happening, there came another news of Daniel Ricciardo leaving Renault. He will drive for Mclaren F1 alongside Lando Norris in the 2021 season.
There are several speculations around the vacant seat at Renault. According to reports, Fernando Alonso is the frontrunner for the Renault seat. Although, the Spaniard left the sport after the 2018 season. He spent 4-years with Mclaren before retiring from F1.
After retiring from F1, Alonso started participating in various other racing events like Indycar series, 24 Hours of Daytona, and even in the Dakar Rally.
Abhay Aggarwal
I am an avid follower of Formula One, Baseball, Cricket, and Lawn Tennis #MercedesAMG #Yankees