WATCH: Daniel Ricciardo Brings Back Popular 2021 Moment With His McLaren F1 Challenger
Published 03/04/2022, 2:49 PM EST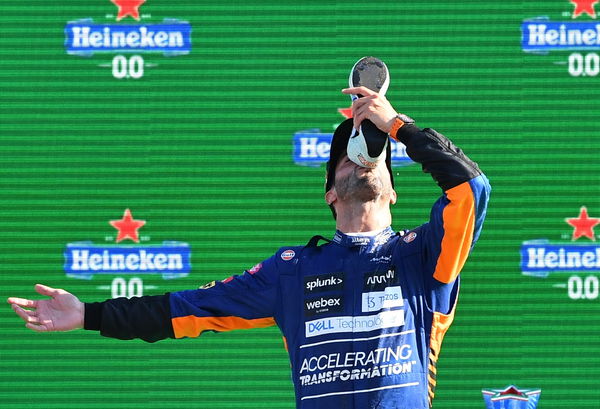 Daniel Ricciardo has recently opened up on his 2021 winning action. The McLaren driver laughed and enjoyed his actions with the McLaren crew. Ricciardo is seen relishing his celebratory moments and posing for his photos in a video posted by his team, McLaren. The shoots include photos and videos for the posters and official videos to be used by McLaren for endorsements or advertisements.
ADVERTISEMENT
Article continues below this ad
In the video, the former HRT racer is seen waiting for his helmet. This was similar to when the 32-year-old was waiting for his winning trophy at the Italian Grand Prix, the most memorable event for the Australian last year. Soon after receiving the trophy, Daniel went on to do his favorite 'shoey' moment, which, of course, was missing from the video.
ADVERTISEMENT
Article continues below this ad
How did Daniel Ricciardo fare lately?
This will be Daniel's second season at McLaren. Ricciardo has joined the Woking-based team from Renault (now Alpine) in 2021. The former Red Bull star was once poised as the upcoming F1 Champion. Unfortunately, that didn't quite come true for the Honey Badger.
Although there are no championship titles to his name, it doesn't take away any credit from him. With a total of 32 podiums and 8 race wins, Daniel will always remain as one of the best and most celebrated drivers to grace the sport.
ADVERTISEMENT
Article continues below this ad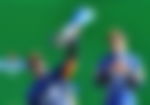 Not only is Daniel is a fan favorite, but he is also known for his quirky actions on and off the track. Despite not winning any championship, Ricciardo is one of the highest-paid individuals in F1.
Watch This story: Helmut Marko Blasts Lewis Hamilton For Role In Michael Masi Sacking
ADVERTISEMENT
Article continues below this ad
As things stand, Ricciardo is looking to step up. McLaren finished in P4 last year after losing the season-long battle with Ferrari. Lando Norris fought valiantly to help the team. However, Daniel fell short of his expectations by quite a margin. With the new season to dawn soon, the Papaya team would expect Daniel Ricciardo to perform.
Which driver would you like to see more often on the podium in 2022? Let us know in the comments below.