WATCH: Daniel Ricciardo Crashes Into Button During Hectic Karting Scrap
Published 02/11/2021, 4:30 AM EST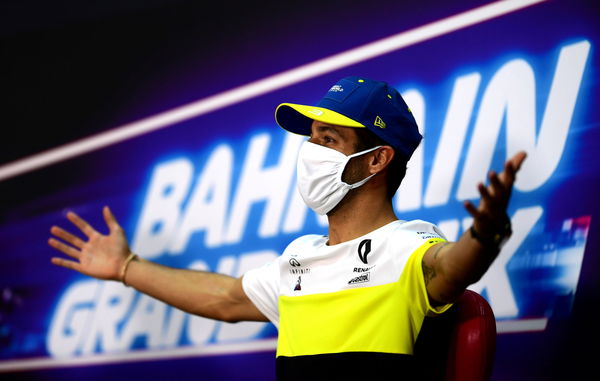 ---
---
Daniel Ricciardo recently started a YouTube channel, and he has since been blessing us with quality content, as is his habit. In his recent video, the Australian was in California doing a few donuts and karting laps with Jenson Button.
ADVERTISEMENT
Article continues below this ad
The pair started their lap with the former F1 driver ahead of Ricciardo. However, after a few corners, Daniel Ricciardo ended up crashing into Button's rear. The British driver put up the brakes around the corner and drifted a bit as the Australian just rammed into the kart from behind.
After the incident, both the drivers came back in the paddock as Daniel Ricciardo explained the crash and reviewed his lap. "He slowed a bit and I was like Oh s**t!" the Australian said about the incident.
ADVERTISEMENT
Article continues below this ad
Ricciardo reviewed his lap and said, "I feel like I didn't suck too bad.
"Ribs really get a rude awakening every time you go-kart. So just going to breathe a little bit and go back again."
Daniel Ricciardo clarified his McLaren move is primarily business
The Australian is by far one of the most entertaining personalities on the Formula 1 grid. He is teaming up with Lando Norris at McLaren, who is also among the top entertainers in Formula 1. Understandably, the F1 community was looking forward to this pair, their fun, and their shenanigans.
However, the Australian has clarified that he is coming to McLaren for business. He is coming to improve the car and win races, "it's not going to be a comedy show," he said.
You never forget that first walk along the MTC boulevard.

— McLaren (@McLarenF1) February 3, 2021
"My personality won't change so I think I do enjoy doing what I do… but I'm certainly not going there to be this meme power couple or whatever it's described as these days!" he explained.
ADVERTISEMENT
Article continues below this ad
Now, we sure hope that Ricciardo's funny bone comes naturally to him. We would love to see the McLaren lineup put up several entertaining shows. However, we also want to see the Australian on top of the podium for the Woking outfit.
Ideally, we'd like to see the Australian be able to do both.
However, if push comes to shove, would you like Daniel to entertain you or win the races with McLaren?
ADVERTISEMENT
Article continues below this ad