WATCH: Daniel Ricciardo Finally Gets Redemption on His Joke After Five Years
Published 07/11/2021, 7:26 AM EDT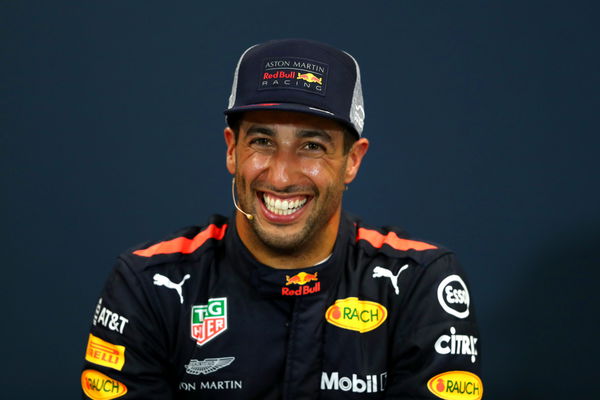 ---
---
It's a simple answer to who the joker on the grid is. Laughter is almost easily associated with McLaren's Daniel Ricciardo. The sport itself has had a lot of jokes piled up over the years, with Danny at the center of many of them. After finishing second at the German GP back in 2016, he sat down at the press conference, admittedly a little drunk.
ADVERTISEMENT
Article continues below this ad
Before answering a question about his 100th race, Daniel looked at the journalist and exclaimed, "Top of the morning to ya, Graham!" in an unforgettable Irish accent. The journalist replied, "I'm Scottish," before laughter broke out in the room.
A man known for redemptions, Daniel Ricciardo got another one recently. In a 'Meet the Driver' session, two Irish fans questioned Danny. Without hesitation, he excitedly said, "I've been waiting for this moment since 2016… "Top of the morning to ya!"
ADVERTISEMENT
Article continues below this ad
Once again, the dialog exchange didn't fail to make everyone laugh, in true Ricciardo fashion.
100th GP start for Daniel Ricciardo
The 2016 German GP was one to remember for Daniel. He made some tremendous overtakes at the Hockenheim and drove himself to the second step of the podium. Red Bull got a double podium and Ricciardo stood third on the driver's championship.
The momentous occasion, though, was the debut of the iconic shoey.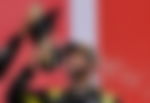 What ended up being the beginning of many celebrations saw its not-so-humble beginnings at the GP. Ricciardo also convinced celebrities like Gerard Butler, Mark Webber, and Patrick Stewart to drink out of his shoe.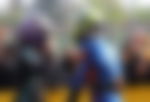 In the iconic post-race interview, Verstappen and Hamilton laughed about the shoey being the reason behind Ricciardo's mishap. "A little too much champagne. That's the problem – I think he's drunk!" laughed Max.
Hamilton diagnosed, "I think it's the champagne and the fruit juices. I don't know, it's toxic!"
ADVERTISEMENT
Article continues below this ad
The mess of an interview has become one of the more memorable jokes associated with Ricciardo.
It's been a while since we've seen a shoey on the podium, or since we've seen Danny standing with Verstappen and Hamilton. Will he ever have a shoey in orange this year? One can only hope there's redemption here as well.
ADVERTISEMENT
Article continues below this ad
Watch this story: From Drunk Gala to Dry Responses: Kimi Raikkonen's Funniest Moments
Trending Stories