WATCH: Daniel Ricciardo Inspires Aston Martin F1 Crewman for a 'Marathon Shoey'
Published 10/04/2021, 8:25 AM EDT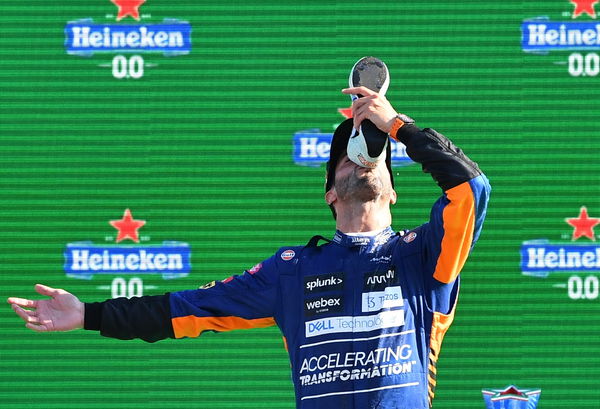 ---
---
People have looked at Daniel Ricciardo and his iconic podium antics with both revolt and awe. Aston Martin software developer stands with the latter as after completing a marathon, he may have taken it a step further than Ricciardo.
ADVERTISEMENT
Article continues below this ad
George Crawford took on the London Marathon in F1 style. The Aston Martin team member ran the race in Lance Stroll's racing suit; helmet, gloves, and all! With speed in his outfit, Crawford now holds a Guinness World Record, having completed the marathon in 3 hours and 58 minutes.
ADVERTISEMENT
Article continues below this ad
An impressive time, what remains concerning is the almost four hours' worth of sweat in the shoes! Having accomplished the feat, Crawford poured himself a shoey and gulped it down in true Daniel Ricciardo style.
Shoeys have taken the McLaren fanbase by storm, especially after Ricciardo's win in Monza; fans flooded the internet with videos of them drinking out of their shoes as well. The Aussie would appreciate the admiration from the Aston Martin crew member; foot juices all the way!
Daniel Ricciardo explains the shoey
In a recent interview, Ricciardo explained the motivation behind his famed shoey. "I feel like that was a way to break a little bit, the mold. There was too often where I saw a podium that was just not that exciting and I was like dude, you're on the podium. You've won or you've come top three in a Formula One race. Show some emotion."
Daniel's shoeys have clearly made their way beyond F1. Not only in the London Marathon but also in Moto GP.
Ricciardo's friend and Moto GP racer Fabio Quartararo, too experienced the shoey. After finishing second in Moto GP's Grand Prix of the Americas, the Frenchman proceeded to fill his shoe with champagne.
ADVERTISEMENT
Article continues below this ad
As Daniel Ricciardo continues to inspire the world in a disturbingly good way, that's the effect of the Aussie driver. All achievements should be celebrated with emotion, according to Ricciardo, and shoeys are a fun way of doing that.
ADVERTISEMENT
Article continues below this ad
With 7 rounds left in the season, will the world share another shoey with the driver once again? Just get the champagne and the shoes ready!
Watch this story: Top 5 Williams F1 Liveries of All-Time