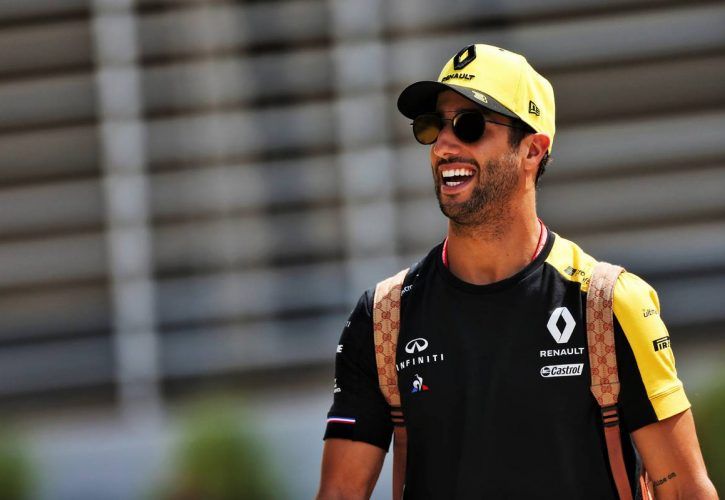 It is a well-established fact that Daniel Ricciardo is the resident Formula One joker and has quite the sense of humour. However, for all his trolling, the Australian driver got a taste of his own medicine. He had called out his contemporaries for their 'original' helmet designs, only to unveil his own.
Later on, when the 2020 drivers were lined up for the group photoshoot, Ricciardo called out, "Dildo" in front of the cameras. To be fair, all of the drivers had to be commended for not bursting out laughing on the spot. Last year, Ricciardo's sense of humour proved to be too much for McLaren driver Lando Norris, and it temporarily disrupted the Thursday press conference.
enjoy Daniel shouting dildo before the drivers photoshoot pic.twitter.com/BZlcKtH9S6

— Zara (@rcingorpingpong) February 19, 2020
How did Daniel Ricciardo kick off the new season?
Like everyone else, the Australian driver unveiled a brand new helmet. The only difference was that it was not a tweaked version of his 2019, pink, blue and green lid. Instead, it was a purple coloured helmet, and a completely 'original' design, ending with a white tip.
As for testing, Renault's Esteban Ocon placed himself 5th at the 2-hour mark, with Sergio Perez leading. However, Daniel Ricciardo had not ventured out just yet. The Aussie is expected to hop into the car after the lunch break and take over from the Frenchman.
On Thursday though, the positions will be reversed, with Ricciardo heading out in the morning, while Ocon drives in the afternoon. Finally, day 3 will see Esteban Ocon out on track first, while Ricciardo swaps with him later on in the day.
2020 will be a crucial year for Renault, as they bid to take the fight to McLaren for 4th place. The latter, will be aiming to bridge the gap to the top 3 teams. In addition to that, the Woking team will want to lead the midfield battle this year.