WATCH: Daniel Ricciardo Leaves Lando Norris a 'Sweaty Present' After the Italian Grand Prix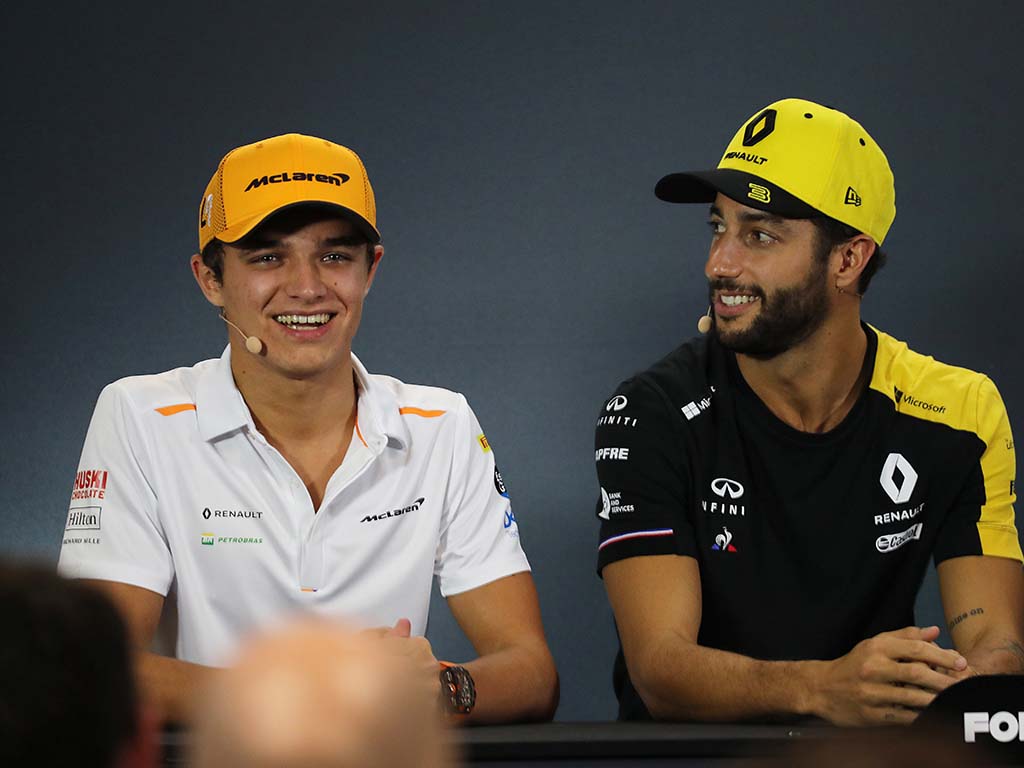 The Italian Grand Prix was dealt a huge blow towards the end of the Italian Grand Prix, even though Daniel Ricciardo finished in 6th place. Their rivals, McLaren, finishing at 2nd and 4th, was their main bone of contention. After the race, Ricciardo spoke to Sky F1 in an interview, but Lando Norris had other ideas and crashed the party.
According to Ricciardo, the McLaren duo was running in 2nd and 3rd when the red flags came out. Just as he said that Norris entered, but he failed to see a raised platform and bumped his leg into it. Ricciardo then said, "He's probably saying what  could have been, as well."
Another week…

Another race…

Another interview interrupted 😂@LandoNorris and @danielricciardo at it again! ⤵️#SkyF1 | #F1 pic.twitter.com/qXR0frHou3

— Sky Sports F1 (@SkySportsF1) September 7, 2020
The Australian driver was referring to the fact that McLaren lost a potential double podium. Jenson Button later mentioned that he heard Ricciardo claim that Lando Norris could only overtake him if he was in a Red Bull. In all honesty, the McLaren drivers were fairly impressive and a double podium would have been on the cards.
The Daniel Ricciardo and Lando Norris interaction is a sign of things to come
With the duo set to unite in 2021, this sort of banter is just the tip of the iceberg. Norris and Ricciardo are two of the most hilarious drivers on the F1 grid. So pitting the two of them in the same team is bound to boost their social media presence.
However, the two have to focus on seeing the season through for their respective teams. So they will be rivals until the end of the season. It is only later that Carlos Sainz will depart for Scuderia Ferrari and Daniel Ricciardo will take his place.
With the way that McLaren is progressing, having two top drivers like Lando Norris and Daniel Ricciardo, will be a big boon. Ricciardo is already a proven race winner, and Norris bagged a maiden podium in the 2020 season opener.
ALSO READ- Lando Norris Downplays "Basic Move" Overtake by Daniel Ricciardo at the British Grand Prix