WATCH: Daniel Ricciardo Proves He is Max Verstappen's Number 1 Fan at Dutch GP
Published 09/06/2021, 11:01 AM EDT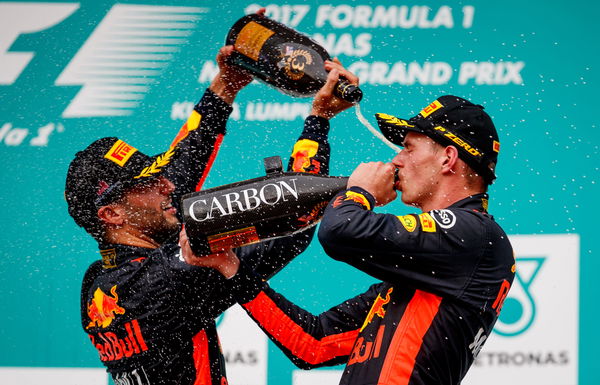 ---
---
Daniel Ricciardo was supporting the winning team at the Dutch GP on Sunday. Ahead of the race, Ricciardo was spotted with an orange Max Verstappen cape for the driver's parade. As the Maxiel saga continued on the parade truck, the Dutch fans made Ricciardo one of them. Looks like the Orange Army got a valuable cheerleader on their side!
ADVERTISEMENT
Article continues below this ad
Daniel flaunted his cape on a track walk and then showed it off to the driver he was supporting: Max Verstappen. Verstappen was in conversation with the Ferrari duo and Pierre Gasly when Ricciardo surprised him with the cape. Friends and former teammates, Verstappen loved the gesture and even kept a video of Danny dancing with it on the truck.
ADVERTISEMENT
Article continues below this ad
Looks like Ricciardo placed his bets on the right driver; the Dutch Lion he repped on the cape took a glorious win on home soil. The win was a big one for the fans present there. And maybe even for Danny Ric, a proud member of the Orange Army.
Disappointing Dutch GP for Daniel Ricciardo
While Verstappen had a phenomenal race, Ricciardo left Zandvoort wanting more. After qualifying fourth in Spa, Ricciardo was denied the chance to race because of the heavy rains. The Aussie would have looked to replicate the result in Holland, but qualified 10th.
Team orders, strategy problems, and technical issues- everything surmounted to a sad race for Ricciardo, who just missed the points. Ricciardo analyzed the race: "Ultimately, I don't think we had massive pace, so I think that was the reality. I think at best maybe we were getting one point today. But we tried a little bit of a, I would say, teamwork strategy to help out Lando, but I don't know. I don't think we executed it very well."
ADVERTISEMENT
Article continues below this ad
The car failed to perform on the challenging track, something Ricciardo describes as a shame. "A bit of a shame obviously, you want to be in the fight and when you do a lot of laps and get no reward, it's obviously not that exciting."
ADVERTISEMENT
Article continues below this ad
The team is now 11.5 points behind their rivals, Ferrari. A great performance from the Red team saw them snatch the P3 position from McLaren. Heading to Ferrari's territory in Monza, McLaren will have to push harder than ever; Daniel and Lando will have to sit high on the board to regain their position.
Watch this story: Top 5 wins of Max Verstappen's F1 career