WATCH: Daniel Ricciardo Trolls Lando Norris for Finally Getting His 'Pubes'
Published 06/19/2021, 3:15 AM EDT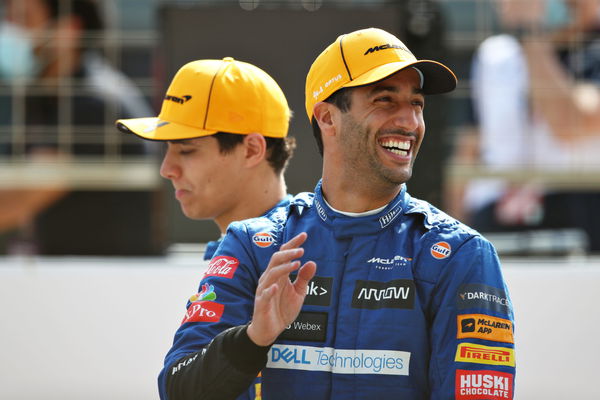 ---
---
F1 encountered an amusing exchange of words between current McLaren teammates, Daniel Ricciardo and Lando Norris back in 2019. During the press conference at Silverstone, the Australian questioned Norris' pubes as the latter burst into laughter.
ADVERTISEMENT
Article continues below this ad
Two years have gone by, and Ricciardo faced a similar question during a recent podcast. He was asked whether his young British teammate had finally gotten his pubes yet.
What did Daniel Ricciardo say?
ADVERTISEMENT
Article continues below this ad
Speaking to the 'Pardon My Take' podcast, the Honey Badger hilariously revealed that he noticed a 'stubble' on Norris' chin ahead of this season.
"I wanna say for the first time, I saw a little bit of stubble on his chin. So, I was like 'maybe'. Maybe the chin matches the other stuff. I don't know," Ricciardo quipped.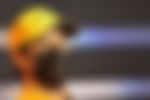 Furthermore, Ricciardo sounded quite surprised that the interviewers managed to capture the conversation, as he felt he was trying his best to be discreet while asking Norris the million-dollar question.
"I can't believe they picked that up. But, so yeah, I don't know," the Australian said. One could never forget how Norris reacted to that question, as his laughter left everyone in the room perplexed, including Lewis Hamilton, who was sitting between the two drivers.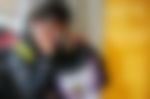 Throwback to the actual interview
The two Britons, Norris, and Hamilton were discussing growing a mustache when Ricciardo came up with a question for Norris, that left the latter in tears.
While Hamilton was busy laying out his opinion, Ricciardo whispered to Norris, "Have you got pubes yet?"
Then started the never-ending laughter, as Norris nodded no. Moments later, his giggling got worse, as Norris ended up in tears, as Ricciardo reacted, "He's crying".
ADVERTISEMENT
Article continues below this ad
Ever since that moment, fans claimed the duo could be the best pairing in Formula 1 if they teamed up. And rightfully so, McLaren fulfilled the wish by signing Ricciardo ahead of the 2021 season.
However, the duo's relationship is yet to pick up, with Norris opting to stay focused on racing. What's more, the two drivers have had contrasting starts to the season; Norris has constantly out-paced his teammate, who was initially the favorite amongst the two.
Hence, amidst the tough start to the season, might Ricciardo even prioritize bonding with the cheeky Lando Norris? Well, let's hope he does.
ADVERTISEMENT
Article continues below this ad
Watch Story: F1 Driver Salaries Revealed: How Much Do Lewis Hamilton & Co. Earn?
Trending Stories