WATCH: Extraordinary Trackside Footage Shows Gruesome Impact of Max Verstappen's F1 Crash at Silverstone
Published 07/20/2021, 7:07 AM EDT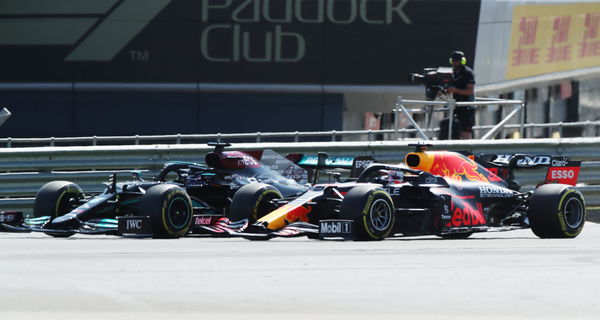 ---
---
Two days after the British Grand Prix, the dust is settling. The final verdict has been given, and everyone had said their piece on the lap one incident. F1 Driver championship protagonists, Max Verstappen and Lewis Hamilton were involved in a collision at Copse Corner, which resulted in Verstappen leaving the circuit on a stretcher. Unscathed, Verstappen is okay, barring a hit taken to his championship points.
ADVERTISEMENT
Article continues below this ad
There is no official media for the incident online from a trackside angle because there were no photographers at the high-speed Copse corner during the crash. However, a video from the grandstands has emerged.
ADVERTISEMENT
Article continues below this ad
On the TV screens, the seriousness of the impact dawned on viewers after a beaten-up Red Bull car was being taken away. Although, in reality, the 51G crash was undeniably immense. Even with the tire barriers, the fans clearly felt the tremors of the collision. Hats flew and umbrellas shook as F1 fans stood up in fear.
Although Max Verstappen miraculously limped out of the car, the video further illustrates how colossal the accident was.
Lewis Hamilton-Max Verstappen: An incident for the F1 history books
The current championship battle is one for the ages. Hamilton and Verstappen's dramatic collision is being compared to some fierce battles in F1 history – to likes of Prost and Senna, and Schumacher and Hill. The incident has surely will have affected the two drivers' relationship as the battle has now well and truly begun.
The crash at Copse almost mirrored the championship contention of 1990. Ayrton Senna ended Prost's race at the Suzuka Circuit in Japan, and his ruthlessness ensured that he won the title that day. There are still so many unanswered questions about that collision, and it remains one of the most scandalous crashes in F1.
The 1994 Australian GP tainted the title clash between Michael Schumacher and Damon Hill. It was a title-defining final race as the two collided, leaving Schumacher in the barriers. Did Hill hit Schumacher? Did Schumacher make a move? Just another flashback of the 2021 race at Silverstone.
ADVERTISEMENT
Article continues below this ad
What's happening in Silverstone is just generational warfare. Toto Wolff had said, "It takes two to tango, and these two are not giving each other an inch."
Therefore, the battle has now become personal. It's one great driver against another; a rising star against an F1 legend. As history repeats itself, who will emerge victorious?
ADVERTISEMENT
Article continues below this ad
Watch this story: Lewis Hamilton's Biggest F1 Crashes