WATCH: F1 Pundit Relishes 'Tasty' Shoey Celebration Amidst Daniel Ricciardo's No-Podium at Australian GP
Published 04/10/2022, 5:06 AM EDT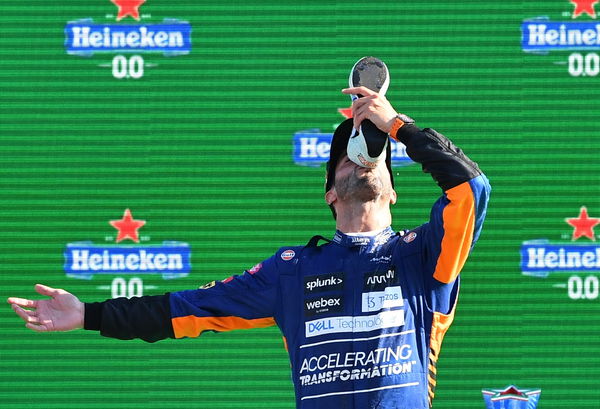 The Australian Grand Prix managed to make a sterling comeback to F1 following years of absence. And of course, there were actions all around right from the start until the chequered flag; Lewis Hamilton, Sergio Perez, and George Russell compensated for Charles Leclerc's one-sided affair upfront while the mid-field delivered a spectacular show with agonizingly close wheel-to-wheel battles.
ADVERTISEMENT
Article continues below this ad
However, despite coming across such an eventful race, there was that tinge of dissatisfaction amongst the Australian fans following the podium celebrations. For the ones wondering what could be the reason, doesn't it seem obvious? Having witnessed a race in Australia, there is one thing that the spectators would have yearned for – Shoey!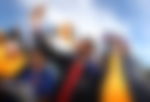 Indeed, Daniel Ricciardo wasn't on the podium to fulfill his fans' sole wish; The Australian had a rather bitter-sweet outing as he eventually landed his McLaren in P6 behind his teammate, Lando Norris.
ADVERTISEMENT
Article continues below this ad
However, turns out, the fans didn't need the Honey Badger to embrace that celebration after all. Instead, there was an unexpected member of the racing community who took over for Ricciardo.
Sky F1 pundit steps up for Daniel Ricciardo at Australian GP
Still wondering who that mystery man could be? It's none other than Sky Sports commentator Ted Kravitz. The British reporter took a stroll along the track during the live Sky coverage when he found himself amongst a sea of Australian fans.
Soon after, one of the fans removed his sneakers to get a 'jar' of beer ready as Kravitz had his hands over his head. "Oh no! He's taking his shoe off," the Briton said with a disgusted expression on his face. "Such a bad idea."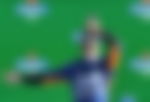 Then came the chug! Kravitz chugged an entire can of beer through the fan's sneaker after which he even offered hilarious feedback. "It's quite tasty, actually. Not too shoey," he said before walking away from the fans amidst a wild roar of applause.
ADVERTISEMENT
Article continues below this ad
Of all, the Ted Talk host was the least expected F1 individual to pull off this Australian ritual. And boy did he manage to deliver it in some style! But, now, the celebrations seem to have subsided a bit as the focus now begins to shift towards the nearing European round.
ADVERTISEMENT
Article continues below this ad
Watch This Story: When F1 Drivers Had a Blast on Top Gear Featuring Hamilton, Vettel & Ricciardo
It's the Emilia-Romagna Grand Prix next, which has certainly offered a decent couple of races since 2020. So, can Imola keep up F1's good run and manage to add another blistering race to the unpredictable season? We'll know in time!