WATCH: Fernando Alonso & Mick Schumacher Hug It Out After Woeful First Lap Collision
Published 10/10/2021, 11:31 AM EDT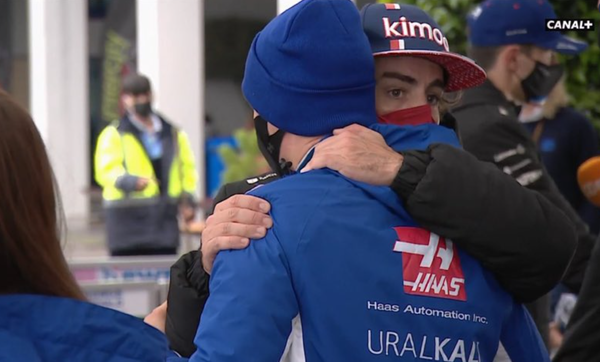 ---
---
The Turkish GP was relatively peaceful for a race on wet tarmac, even featuring a good race start. However, Fernando Alonso had a bit of a messy first stint, after coming into contact with Pierre Gasly and Mick Schumacher. After spinning off the track because of the Frenchman, Alonso rejoined the race and soon punted Mick Schumacher. However, later it was seen that there was no bad blood between the two.
ADVERTISEMENT
Article continues below this ad
ADVERTISEMENT
Article continues below this ad
While Alonso called Gasly stupid for throwing him off balance, he was later seen hugging Mick after the race. Mick Schumacher, who had started at a career-best P14, had dropped to the bottom of the grid after swiveling off the track. The German would surely appreciate Alonso's apologies.
Although the drivers have taken the incident in their stride, Alonso faced repercussions for the event. The Spaniard served a five-second time penalty at his pitstop. Further, Alonso has two more penalty points on his license.
Fernando Alonso forgives and is forgiven
Showing his time and experience in the sport, Alonso said that he deserved the penalty for spinning Mick, but Gasly didn't deserve his. Despite the initial rage, the Spaniard believes that the Frenchman's five-second penalty was too harsh. In fact, he brushed it off as a racing incident.
ADVERTISEMENT
Article continues below this ad
However, it was surprising to see the stewards penalize Pierre for the incident. Usually, the FIA turns a blind eye to lap 1 and turn 1 incidents; so the reaction to Gasly's minor mishap was unwarranted.
Overall, it wasn't the best race for El Matador, who has been on a run of good races lately. It was unfortunate to see Alonso stuck with the crowd at the bottom of the grid, fighting hard for position. He later said in an interview, "these races are like the lottery…we knew this race will be like a lottery but this year we don't have any luck. Hopefully, we will accumulate a lot of luck for next year."
ADVERTISEMENT
Article continues below this ad
As Alonso looks to better his performance in the Alpine, the next round of the game awaits the master. Despite the misfortune he faced on the track today, it's a surety that Fernando Alonso will soon bounce back.
Watch this story: Inside Michael Schumacher's Car Collection.