WATCH: Hamilton Shares a Classy Message to Vettel After His Heartbreaking F1 Disqualification at Hungary
Published 08/02/2021, 9:13 AM EDT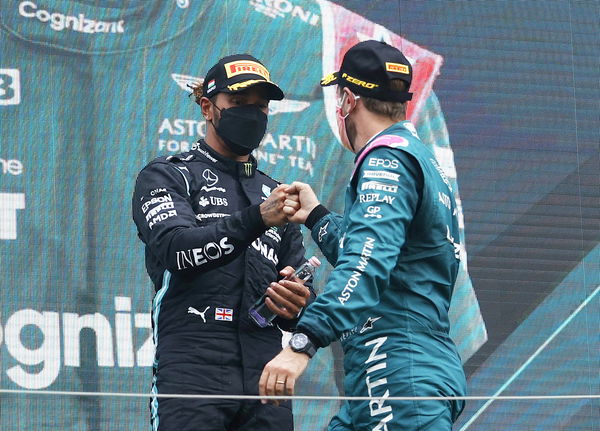 ---
---
Lewis Hamilton had an eventful Hungarian GP, to put it mildly. The Mercedes driver gave it his all as the race left him breathless and fatigued, quite literally. Having had time to rest and recollect himself, Hamilton took to Instagram to share his thoughts on the race and congratulate his fellow drivers. Of these, he celebrated the stellar performance put up by Sebastian Vettel.
ADVERTISEMENT
Article continues below this ad
Hamilton praised his former rival, saying, "It's always an honor being on the podium with you and you deserved this result." Sebastian Vettel had bagged a second podium for his team, which was unfortunately taken away. Lewis commended him, "What you are doing for your new team is amazing, keep fighting and pushing."
📲 IG Story I Lewis Hamilton on Sebastian Vettel's disqualification from the #HungarianGP 🇭🇺

"I'm so gutted for Seb. It is always an honour to be on the podium with you and you deserved this result."👊🏾 pic.twitter.com/cUjbGFjqMr

— Sir Lewis Hamilton Updates (@SirLewisUpdates) August 2, 2021
ADVERTISEMENT
Article continues below this ad
Because of the disqualification, Lewis gets Sebastian's P2 position. Therefore, the points have been increased, widening the gap between the championship rivals. Lewis is ahead of Max by eight points, while Mercedes lead the way by 12 points.
However, things could go back to what they were immediately after the checkered flag, as Aston Martin have appealed against Seb's disqualification.
Lewis Hamilton and Carlos Sainz benefit from Seb's DQ
Sebastian Vettel's disqualification led to another unanticipated sequence of events. For starters, the champion battle took its turn as Mercedes and Hamilton welcomed the extra points. The team head into the summer break with a sigh of relief as they head both championships.
This also means that Carlos Sainz gets another late podium to his name. Interestingly, the Spaniard's maiden podium at the Brazilian GP was also because of a later penalty upon Hamilton.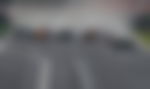 Now, he finds himself above his teammate, Charles Leclerc, in the drivers' championship, and his podium has also pushed Ferrari up the ladder. The Prancing Horses went into the GP hoping to get ahead of their rivals at McLaren. Had the race gone differently, they probably would have; Vettel's elimination ties the two teams at 163 points.
ADVERTISEMENT
Article continues below this ad
Sebastian's well-deserved podium may have spiced things up in the competition, but Aston Martin isn't willing to give up so easily. The team has filed an appeal with the FIA in order to keep the podium position.
ADVERTISEMENT
Article continues below this ad
While things in F1 can change in the blink of an eye, this summer break will surely keep things exciting. The race in Spa will once again have everyone on the edge of their seat.
Watch this story: Lewis Hamilton's Biggest F1 Crashes