WATCH: Incidents That Added Fuel to the Intense Michael Schumacher – Ayrton Senna F1 Rivalry
Published 09/21/2021, 5:24 AM EDT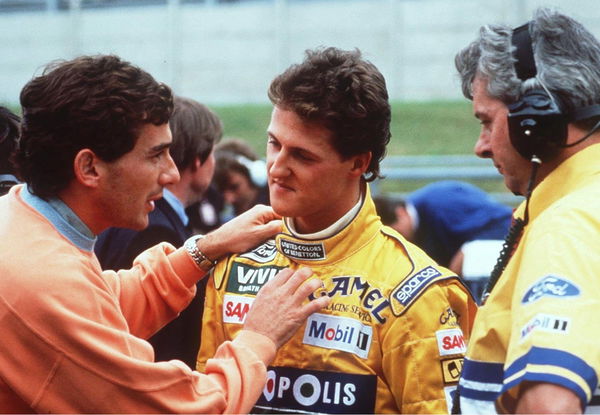 ---
---
It was the year 1992 when Michael Schumacher and the late Ayrton Senna, found themselves on the same grid as F1 title contenders after the former earned a strong car from Benetton.
ADVERTISEMENT
Article continues below this ad
While the Brazilian was then the reigning world champion, Schumacher was certainly showing signs of being a superstar, and a rivalry between the duo was looking almost inevitable.
Senna was aware of the threat Schumacher was holding, and often allegedly played games to scrap any advantage of the German on the track. Schumacher often pointed out that Senna would hit the brakes at random spots to confuse others and would pull away unexpectedly; 1992 Brazilian GP being a prime example.
ADVERTISEMENT
Article continues below this ad
Hence, the fight was always going to get ugly at some point. Rightfully so, the 1992 French Grand Prix ended up being the starting point of the brief yet feisty Schumacher-Senna duel. Another biggest turning point of their rivalry was the opening race of the 1993 F1 season.
Senna and Schumacher yet again came together at Kyalami, the final South African Grand Prix until now.
The French GP debacle between Michael Schumacher and Ayrton Senna
At the start, Gerhard Berger got ahead of Senna. And while the Brazilian was desperately looking to reclaim the position, Schumacher joined the battle too. The German found a decent exit out of Estoril (turn 3) and was right behind Senna's rear wing.
However, trying to make a move around the inside of the Adelaide hairpin, the two drivers came together. Senna had to retire from the race, while Schumacher was forced to pit. He continued to race for 17 laps before retiring after crashing into Stefano Modena.
ADVERTISEMENT
Article continues below this ad
Interestingly, the crash wasn't what caught everyone's attention, but the heated conversation afterward. After the chequered flag waved over the race, Senna ended up schooling Schumacher in the pit lane.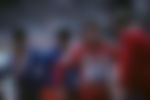 The next biggest incident was in South Africa in 1993. Schumacher's Benetton was blatantly faster than Senna's McLaren and even gained the track position on Senna midway through the race. However, after the pit stops, when Schumacher attempted to get past Senna for the second time on lap 40, the latter shut the door.
ADVERTISEMENT
Article continues below this ad
Unsurprisingly, Schumacher spun and ended up retiring from the race. Schumacher and Senna were visibly building an incredible rivalry. Unfortunately, hardly months after such heated moments, Senna lost his life in Imola in 1994, the year which teased promising battles between the electric duo.
Watch Story: Ugliest Moments in Hamilton-Rosberg Rivalry