WATCH: Lando Norris and Daniel Ricciardo Unveil Striking 'Old School' F1 Helmets for Monaco GP
Published 05/21/2021, 4:45 AM EDT
---
---
Earlier this weekend, the McLaren team unveiled a brand new livery, celebrating their partnership with Gulf Oil. In addition to that, the drivers also got in on the act. To be precise, Lando Norris and Daniel Ricciardo unveiled brand new helmets. The new helmets were designed in such a way that they resembled helmets from an older era of F1.
ADVERTISEMENT
Article continues below this ad
Norris' helmet colors largely resembled the MCL35M's colors, with sky blue as the primary color. Meanwhile, several orange stripes make up the secondary color scheme of the helmet. There is also an image of a pair of racing goggles super-imposed on the helmet. Additionally, the British youngster also had his helmet bear realistic-looking scratches on top of the lid.
ADVERTISEMENT
Article continues below this ad
Meanwhile, Daniel Ricciardo also traveled down the retro route. The only difference was that his helmet was predominantly orange with a McLaren Car logo, featuring a Kiwi on it. Interestingly, the kiwi is a nod to founder Bruce McLaren's nationality. Ricciardo also revealed that his helmet was hand-painted.
McLaren driver Daniel Ricciardo could not resist showing off a little
ADVERTISEMENT
Article continues below this ad
On the back of the helmet, there was also a small message that read, 'These are my streets'. The Australian driver explained, "I run Monaco. I am the prince-to-be of this town. I don't want to be the prince. That'd be cool for a day, maybe." This is a nod to Ricciardo's prowess on street circuits, especially his Monaco win in 2018 for Red Bull.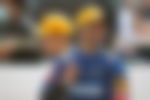 Of course, it would be difficult for the Australian driver to repeat his feat in 2021 with McLaren. However, that does not mean that he won't give it a good shot. The streets of Monte Carlo are narrow and anything can happen. Barring something dramatic, the best that he could hope for is a Top 5 or Top 10 finish.
ADVERTISEMENT
Article continues below this ad