WATCH: Lando Norris Debuts the Mercedes-Powered 2021 McLaren car
Published 02/16/2021, 9:46 AM EST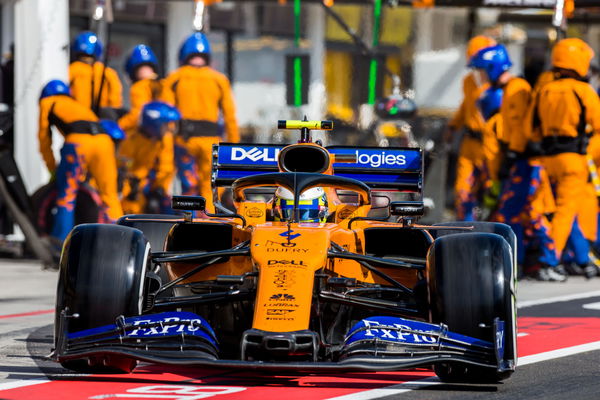 ---
---
There is a sense of excitement and buzz around at McLaren. Just yesterday, they officially unveiled their car for the upcoming F1 season. And now the likes of Daniel Ricciardo and Lando Norris will take it for a spin around the Silverstone circuit.
ADVERTISEMENT
Article continues below this ad
However, F1 has banned any form of outside testing on the car aside from the pre-allotted three days every team gets.
So how is McLaren able to field their 2021 challenger on track? Aren't they violating the FIA rules?
ADVERTISEMENT
Article continues below this ad
The answer is no since each team is permitted 1ookms of on-track action per driver for a filming day. So, they are probably taking the advantage of that.
As you can see above, Lando Norris was the first one to get behind the wheels of the MCL35M. He took it out of the garage at the Silverstone circuit, which hosts the British GP. The track is nearest to their Woking base, which is in England.
However, for fans of Daniel Ricciardo, they should not feel too disheartened. The Australian will himself get behind the wheel of the papaya car for the first time later in the day judging by their social media activities.
Can McLaren contend for the 2021 F1 title?
Lewis Hamilton hopes that they can be in a three-way title fight alongside Red Bull and Mercedes. However, after they finished third in the constructors champion in 2020, that still may be a bit premature to suggest.
Agreed, they are getting a top driver in Daniel Ricciardo alongside a new Mercedes engine powering their car. But they may have to take a step back in performance after making a few changes to the chassis to integrate the change in the power unit.
Though, judging by the sound of the car, it does look a steamingly powerful engine.
ADVERTISEMENT
Article continues below this ad
They can still continue on their upward trajectory in 2021. This season is more about laying the foundations for a bigger title challenge in the future. Most probably, they will be keeping an eye for 2022 when the new technical regulations set in and they can launch a proper assault.
ADVERTISEMENT
Article continues below this ad