WATCH: Lando Norris Repays His 6-Year-Old Helmet Designer in the Most Adorable Way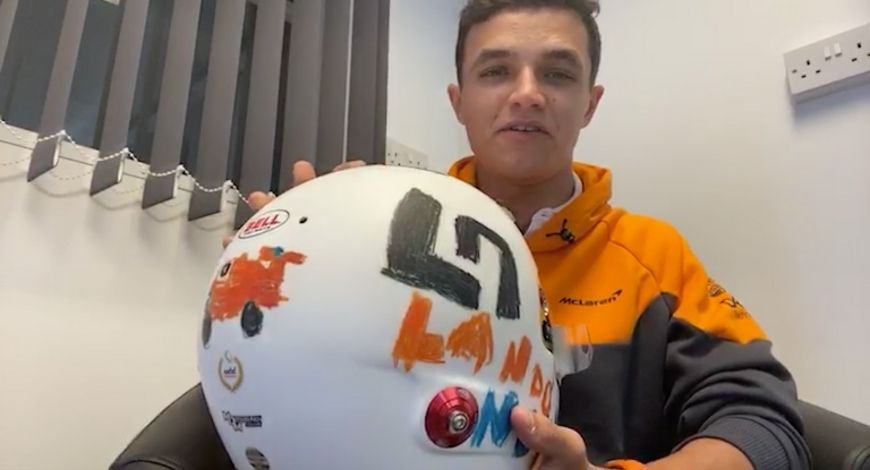 In the buildup to the British Grand Prix weekend, Lando Norris unveiled a brand new one-off helmet design. The helmet had a primary color scheme of white, with Norris' name, car, and car number drawn in crayon.
The owner of the unique design is a 6-year-old called Eva Muttram. When he spoke about the helmet design, he admitted that it reminded him of his childhood.
Special delivery for Eva 📦 pic.twitter.com/VzHMohexWy

— #L4NDO (@TeamL4NDO) August 20, 2020
Recently, the McLaren driver decided to pay her back for her efforts. The young driver delivered a small message as thanks and sent her a small gift to show his appreciation and how special her helmet was to him.
What else did Lando Norris say?
In a recorded message, Norris revealed that her design was 'cool' and many people loved it. In fact, he even has a special wall of all his favorite things. He revealed that Eva's helmet features alongside a replica helmet of his idol, Valentino Rossi.
Admittedly, her helmet is not quite in pristine condition owing to the dirt, but it is recognizable. Once the message ended, Eva opened her present to find a replica of her helmet design. Suffice to say, the 6-year-old was quite thrilled and even her family was delighted.
At a time when fans aren't allowed to attend the Grands Prix, Lando Norris still had a fan by his side. In the buildup to the race weekend, Norris announced a competition where fans submitted their helmet designs and Eva won.
The design is fairly simple, featuring his name scribbled across both sides of a blank canvas in blue and orange. There is a crayon drawing of his logo and the orange McLaren emblazoned on the helmet.
Unfortunately, she could not fit his full name on the helmet, so the letter 'S' had its own separate space.
ALSO READ- Lando Norris Steals Hearts With an Adorable Fan-Designed Helmet for the British Grand Prix